A lizard's leg amulet, the Colmar Treasure, and secret porn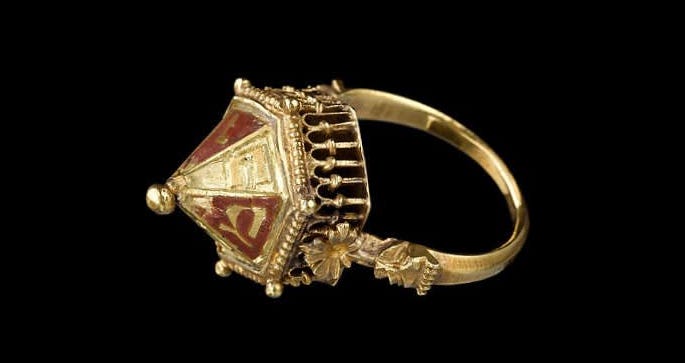 Photo by Jean-Gilles Berizzi, courtesy of the Réunion des Musées Nationaux.
Hey all, deadlines have been kicking my butt, but I didn't forget you! This week I'm starting by shouting out the Metropolitan Museum of Art AGAIN, so apologies for two NYC-centric posts in a row. But seriously, an exhibit just opened this week that is a must-see if you're in the area. Plus it's at the Cloisters, so even better.
The exhibit "The Colmar Treasure: A Medieval Jewish Legacy" features a collection of jewelry and coins that was discovered hidden behind a wall of a house in Colmar, France in 1863. The pieces date from the early to mid-1300s, when the plague was sweeping through Europe and Jewish communities in France and elsewhere were being scapegoated and murdered in huge numbers. The Colmar cache is believed to have been carefully hidden away by a Jewish family that unfortunately did not survive the pogroms.
The standout piece of the collection is the wonderfully delicate Jewish ceremonial wedding ring pictured above, which dates to between 1300 and 1348. Jewish wedding rings are a custom that goes back hundreds of years, and they usually feature a tiny golden building that symbolically links Solomon's lost temple in Jerusalem with the home of the newly married couple. The words "Mazel Tov" (Good Luck) or the initials "MT" are often inscribed somewhere within the design, and the Colman ring spells it out in Hebrew letters with accents of red and green enamel (although most of the green has been lost over time).
The cache is on loan from the Musée de Cluny, and this exhibit includes additional items of Judaica from the Met Cloisters and other private collections. It's up until January 2020, but if you can't make it in person, you can view the exhibit items here.
---
Wool of bat, and tongue of dog,
Adder's fork, and blind-worm's sting,
Lizard's leg, and owlet's wing,—
For a charm of powerful trouble,
Like a hell-broth boil and bubble.
Macbeth (IV, i)
Circa 1690 and possibly German, this well-preserved lizard's leg is set in filigree silver with beaded detail. It was most likely carried as a protective talisman, and may have been suspended from a chatelaine (remember them?) along with other good luck charms.
---
These earrings are actually two Victorian whistles that were carved out of bog oak and later equipped with earring wires. And the whistles work! They're also fitted with Stanhope lenses, which are little optical devices, invented by René Dagron in 1857, that allow you to peek through and view a microscopic image. In this case, there's only an image in one of the whistles — it's titled "A Memory of Rothesay" and features illustrations of Rothesay, Scotland, which was a popular Victorian tourist destination.
And in case you were wondering, bog oak is oak that was buried in peat for hundreds or thousands of years. Preserved from decay by the bog and exposed to minerals and tannins in the water, it eventually darkens with age to a deep black color. The Victorians used it extensively in jewelry, and it often served as an alternative to jet in mourning items.
---
This fairly innocuous little Swiss 18k gold and enamel seal has a secret. Circa 1840, it's set with a lid that opens to reveal a couple… well, "embracing in a forest," to use the dealer's polite description. And surprise! It's actually an automaton — if you wind that little ball-shaped mechanism at the center of the seal, the couple hops into action. Or rather, he does. She just kinda stands there.
---
Just FYI, if you need like a billion antique taxidermy glass eyes, you are SO in luck. Plus the auction house has even thrown in a late 19th-century plaster cast of a brown trout! Such bargains to be had, out there in the wide world of totally random auctions.
Also, fans of the whimsically anthropomorphic tableaux created by Victorian taxidermist Walter Potter may be interested in these contemporary pieces featuring a mouse fishing and hunting.
Ok that's it for now. TGIF, seriously. xxx