A pistol ring, an iconic zebra, and George Nakashima's 1966 Thunderbird
Also, a cowboy duck.
This little silver and iron contraption is a pistol ring, and it's meant to be worn on the index finger, so that the six tiny pin-fire cartridges can be fired with a flick of the thumb. The band is engraved with a leaf motif and the words "FEMME FATALE," and according to the lot description, the ring is French and dates to the third quarter of the 19th century. I've seen these rings described as a form of defense for unaccompanied women, and they can fetch decent amounts of money at auction — a seven-shot Femme Fatale ring went for $10,000 at Greg Martin Auctions (see lot 39) back in 2006, and this particular one recently sold within its estimate for $2,800 in the Auction of the Decade - Arms & Armour online sale at Czerny's International Auction House.
HOWEVER. (It's party pooper time!)
According to Ian McCollum, firearms expert, historian and founder of ForgottenWeapons.com (and its hugely popular YouTube channel), all of that 19th century stuff is nonsense, and these rings were made sometime after 1955 in the STYLE of the mid-1800s. In this video, McCollum — an engaging professorial type with long hair that has earned him the nickname "Gun Jesus," which I find hysterical — demonstrates how the pistol works and makes a number of points to back up his claim. First, McCollum calls into question the name of a similar ring — "Le Petit Protector" — which is a larger men's version of the Femme Fatale. If these rings were truly made in France or Belgium, what's up with that English spelling of "Protector"?
Also, all of the examples we see of these rings are in excellent condition, in fitted boxes complete with most of their original cartridges and other tiny bits. If these rings really were 150 years old, we surely would see more of them with missing parts and in generally bad shape. Plus, there's no standard case that points to a manufacturer: All of the boxes we see are repurposed old jewelry boxes, in different shapes with velvet inserts made to fit the rings and their parts.
McCollum goes on to mention that the center screw, which holds the pistol's cylinder to the ring, "just doesn't quite pass the smell test," time-wise — but his final point is, I think, the most damning. You can't find a single one of these pistol rings listed in any early auction or sales catalogs or books — and most importantly there's nothing in Lewis Winant's 1955 Firearms Curiosa, which is the reference bible for unusual pistols.
All that aside, these rings are still beautifully made and interesting little items, and McCollum doesn't discourage anyone from buying them — he just wants us to understand that they're not quite as old as we may hope. Also, just fyi — the Forgotten Weapons YouTube channel is unexpectedly fascinating and NRA idiocy-free, so even if you don't have the slightest interest in guns it's nice to check out in a soothing "listen to experts talk in great detail about their passion" sort of way.
---
This ca. 1930 American Art Deco vanity case is 14k gold with green and blue enamel and tiny diamond-set simulated hinges and door handles. The blue enamel is skillfully worked to resemble lapis lazuli, and Christie's doesn't mention it, but it looks like the green enamel may be slightly variegated to mimic malachite. Really gorgeous. The interior has a hinged mirror and a removable lipstick case.
The case is included in Christie's "The Collector: English & European 18th & 19th Century Furniture, Ceramics, Silver & Works of Art" current online sale, and it was made by the New York jewelry firm E.M. Gattle & Co, which was founded by Emanuel Gattle in the second half of the 19th century and closed in 1940. Here's an image of their marble-heavy Fifth Avenue facade in 1914.
---
The David Webb zebra bracelet is one of the truly iconic American jewelry designs of the 20th century. Webb, who was born in North Carolina in 1925 and opened his own jewelry shop in New York City in 1948, was famous for his big, exuberant animal-inspired jewelry designs. "Women are tired of jewelry-looking jewelry, and they want one-of-a-kind pieces… Animals are here to stay," he said, and he was right. His jewelry became a must-have for the fashionable ladies of the 1960s, and Jacqueline Kennedy and Elizabeth Taylor both owned the Zebra bracelet, while Harper's Bazaar and Vogue editor Diana Vreeland (also an owner) used Webb's Zebra ring as the inspiration for the Irving Penn-shot September 15, 1964 cover of Vogue.
Unfortunately, Webb died of pancreatic cancer in 1975, when he was just 50 years old. His company continues today, however, and still draws from his huge archive of nearly 40,000 drawings and designs to create new jewelry.
The Zebra bracelet itself is 18k gold, with black and white enameling, cabochon ruby eyes, and a mane, muzzle and ears set with circular-cut diamonds. The zebra's mouth gently grasps a diamond-set ring. The bracelet is articulated and consists of over two dozen parts, and as master polisher Benjamin Ray (who has worked at David Webb since 1965) told Town & Country in 2015:
"It can take around 30 hours to make a bracelet like the Zebra bracelet. It is made of gold, enamel, diamonds, and other gems. I polish it after every step. After they put it together, before they add the gems, and after. I get it five or six times. Never less. Because every piece of jewelry made here is perfect. And I can tell if it isn't. If there is a mistake or a scratch, I will find it."
You can see a disassembled Zebra bracelet on the Webb website, as well as Webb's original 1963 sketch. And judging by the price tag ($69,500) for a new bracelet, the $25,000-35,000 estimate on the Freeman's version is a steal.
(Also, don't miss his wonderful elephant bracelet, estimate $30,000-50,000.)
---
These earrings are featured in another ongoing Christie's sale, "Jewels Online." Two tiny diamond-capped Buddha's hand carvings dangle from long chains, and the metal hasn't been tested, but the hands are jadeite, the rarest and hardest form of jade. This particular example is colorless, but jadeite — which can range in transparency from semitransparent to opaque — comes in a whole rainbow of colors, with bright emerald green (known as "Imperial jade") the most expensive and sought-after shade.
---
I LOVE the design of this ca. 1940s Retro 18k gold bracelet, which hides diamonds and rubies within its funnel-shaped links, so they're only visible from certain angles.
---
The May 13 "Modern Design" auction at Rago will include something a little unusual among all the furniture and decor: George Nakashima's 1966 Ford Thunderbird. Nakashima — the revered American woodworker and architect who learned traditional Japanese carpentry while locked up in an internment camp in Idaho during World War II — is best known for his sinuous wooden tables with polished tops and unfinished edges. There's a lovely article here on The Exchange Int about Nakashima and his philosophical approach to woodworking.
The Rago auction includes a large selection of his furniture, including this English oak burl top table from 1971, and this gorgeous Persian walnut, Oregon myrtle and rosewood cabinet from 1989.
His car, which carries an estimate of $7,000–10,000 and looks to be in beautiful shape, actually has his own custom nameplate on the dashboard.
I don't know if custom nameplates were a thing back then or what; I just think it's cool.
---
This ca. 1930 German Art Deco bangle pairs baguette-cut colored stones with round brilliant diamonds to create a geometric pattern that appears to fold over itself. Channels of green and reddish-brown tourmalines cross over two rows of diamonds and one row of citrines, which help create the illusion of a folded ribbon. This piece itself isn't marked, but it still has its original custom box bearing the stamp of Vereinigte Juweliere GmbH, which was essentially a design alliance formed by three well-established Berlin jewelry firms: Eugen Marcus, I.H. Werner and Sy & Wagner.
---
First off, I have to tell you I know nothing about watches. Absolutely zip. I would certainly learn more if I had the capacity to afford a good one, but I don't, so all the intricacies of chronographs and minute repeaters and manual wind vs automatic are lost on me.
Obviously that doesn't stop me from being 100% superficial and melting over the pretty ones, like this Golden Bridge model by Corum. It's in Antiquorum's "Important Modern & Vintage Timepieces" online auction on May 10, and it features a rectilinear movement, with all the tiny wheels and pinions appearing to float mid-air in a straight line that's visible on all four sides through sapphire crystal panels. The movement is called the "Golden Bridge In-Line," which, according to the lot details, was invented by Vincent Calabrese in 1977 and then bought, improved and patented by the Swiss watchmaker Corum. Their official Golden Bridge line was then launched in 1980.
This particular watch is circa 2006, and was part of a new launch of the Golden Bridge collection in honor of Corum's 50th annniversary. The tonneau- (or barrel) shaped case and movement are in 18k pink gold with black oxidized gold skeleton hands, and the aforementioned curved sapphire crystal panels at front, back and sides allow the movement to be inspected from all angles. The watch is manually wound, with the dial sitting at 6 o'clock — I love that streamlining detail — and is finished with a black crocodile leather strap and an 18k pink gold buckle.
Corum currently has a large variety of Golden Bridge watches available in the line and some of them are pretty cool, but I still prefer the simplicity and elegance of this one.
If you have time, it's worth browsing through the rest of the auction, because it's always fascinating to see just how far designers can take a simple watch. Here are a couple others that took my fancy: This Maitres du Temps "Chapter Two" watch that displays the month and day on rollers, and this Ulysse Nardin Royal Python Skeleton Tourbillon, with a skeletonized dial that has bridges painted to look like snakeskin. That one's a bit much, but if you're going to spend $35,000-45,000 on a watch, it BETTER be a bit much.
---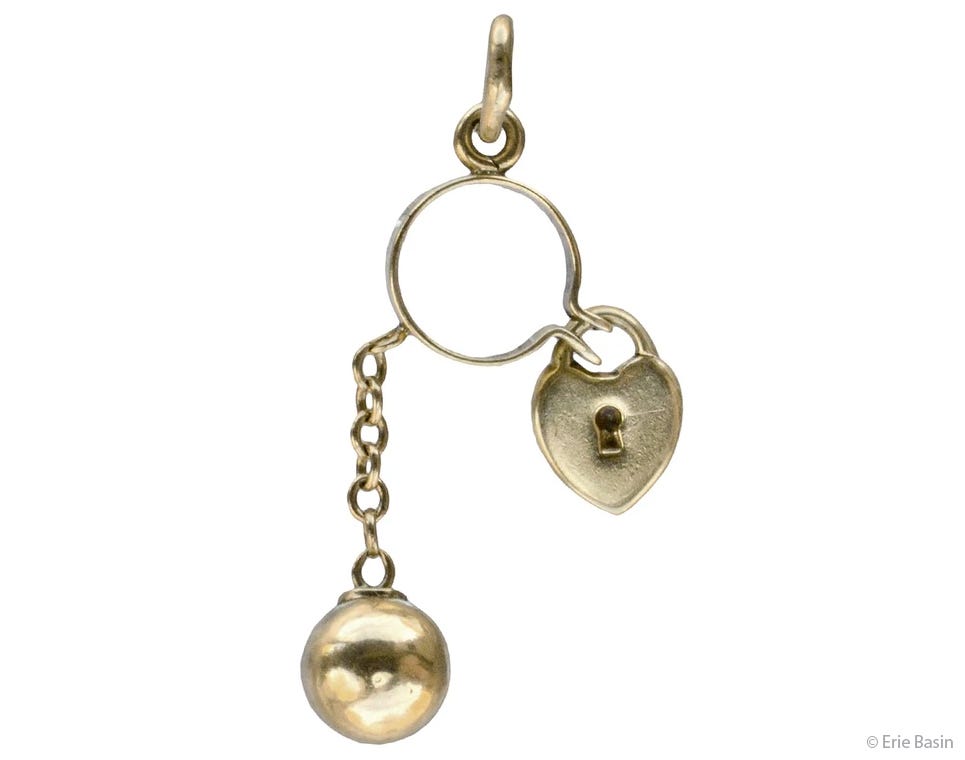 Ca. 1950, a 14k yellow gold ball and chain charm, with a heart-shaped padlock.
---
This gorgeous Cartier bangle features carved rock crystal mounted on a gold frame. The piece has an Eastern influence, with the crystal stepped in and carved to create the profile of a lotus flower, and diamond accents on either side that mimic the shape of a temple roof.
---
This early 1900s silver lorgnette pendant was made by the Austrian firm Schwarz & Steiner, and features a very sweet floral pattern in enamel. A lorgnette is a pair of glasses attached to a handle, and in this particular case the lenses can be folded in half and tucked back up into the handle, and released again by pressing the button on the side.
The lorgnette was invented in the late 1700s and remained popular well into the 1900s — often appearing in items of jewelry, which made them both practical and fashionable. (You can learn more about them in this online exhibit from the College of Optometrists in London.)
It looks like the original lenses on this pair may not have survived, but an optometrist could replace them with either your own prescription or magnifiers.
---
Well, that's about it for this time, my friends. As a parting gift I will leave you with this ca. 1950 Cartier cowboy duck, who really should have gone into the last whimsy-centric newsletter, but I didn't know about him at that point:
I hope you're all keeping safe and sane. As always, feel free to leave a comment online, reply to this email or find me on Twitter at @rococopacetic. Take care! xxx
---
Thanks for reading, and if you haven't already subscribed, sign up here: