A radioactive necklace, a tiny sundial, and a truly stunning emerald
And a pin that will EAT your FACE.
Apologies for the delay in getting you a newsletter — work has been hammering me to death — but as of tonight I'm on vacation and interacting with as few people as humanly possible. (I'm also writing this while deliriously tired, so please forgive me if any of it is gibberish.) Whooo!
OK, here we go: The circa 1925 Art Deco emerald, diamond and enamel brooch above is by the British jewelry firm Hennell, and showcases a beautiful octagonal-cut Colombian emerald that dates to 1813-14. The emerald is engraved with five lines of the nasta'liq style of Persian calligraphy, which Bonhams translates as:
"The essence of ..., the water of life of the age, Princess Mary Frederica Elizabeth Hood, the lady excelled in glory, [considered] the glorious child of Muhammad Akbar Padshah, the Conqueror 1229 (1813-14)."
Mary Hood lived an extraordinary life. Born in the Scottish Highlands in 1783, she was the eldest child of the chief of the clan Mackenzie and eventually the wife of an Admiral, as well as a close friend of Sir Walter Scott (who used her as the prototype for his poem "The Lady of the Lake"), and the toast of both English society and Indian royalty (which is probably how she acquired this lovely gift from a Mughal Emperor).
After her beloved husband died unexpectedly (malaria), she headed back to Scotland, where she was greeted with the news that her father and only remaining brother had also recently died. This meant the family estate had reverted to her, and — fulfilling a prophecy made by a 17th century Highland seer (seriously!) — she was now chief of the clan. She married again a few years later, and her new husband took the Mackenzie name. They had six kids, preserving the family name and estate.
Mary died in 1862, and her hearse was led by pipers and followed by a five-mile-long column of mourners in what Bonhams describes as "one of the last great Highland funerals." Her emerald passed down through the family, and it's believed that her daughter's granddaughter had it mounted in its current Art Deco setting by Hennell.
This is a vastly abbreviated history of her jam-packed life, so I encourage you to click through for all the details I've left out.
---
This pin is up on Ruby Lane right now and I have no idea what the hell it is, but I'm pretty sure it'll kill you in your sleep.
The dealer says it's a "rare figural pin" with a peaked cap and a book bearing the word legge, which is law in Italian. The pin itself is brass, but the material comprising the figure is a mystery — not bakelite, celluloid or stone, so possibly another early plastic. OR HUMAN BONE. Who knows.
---
Circa 1880, this English Greek key-motif bangle has five hinges and is set with Persian turquoise in rose gold. Turquoise is extremely susceptible to contaminates like oils or lotions, and you can see some of the stones have a slight yellowish or greenish tint as a result of exposure. It's not bad, though, and the bracelet is still gorgeous.
---
Anybody need a tiny pocket sundial? This early 18th century dial is silver, with an inset compass and a hinged gnomon (the raised part that projects the shadow) with a Twitter-like bird detail. The four bands of numbers ringing the dial are hour scales. The piece is signed "Butterfield, Paris," and the back is engraved with the names of 25 European (but mostly French) cities and latitudes. It's two inches long and has its original fitted case.
---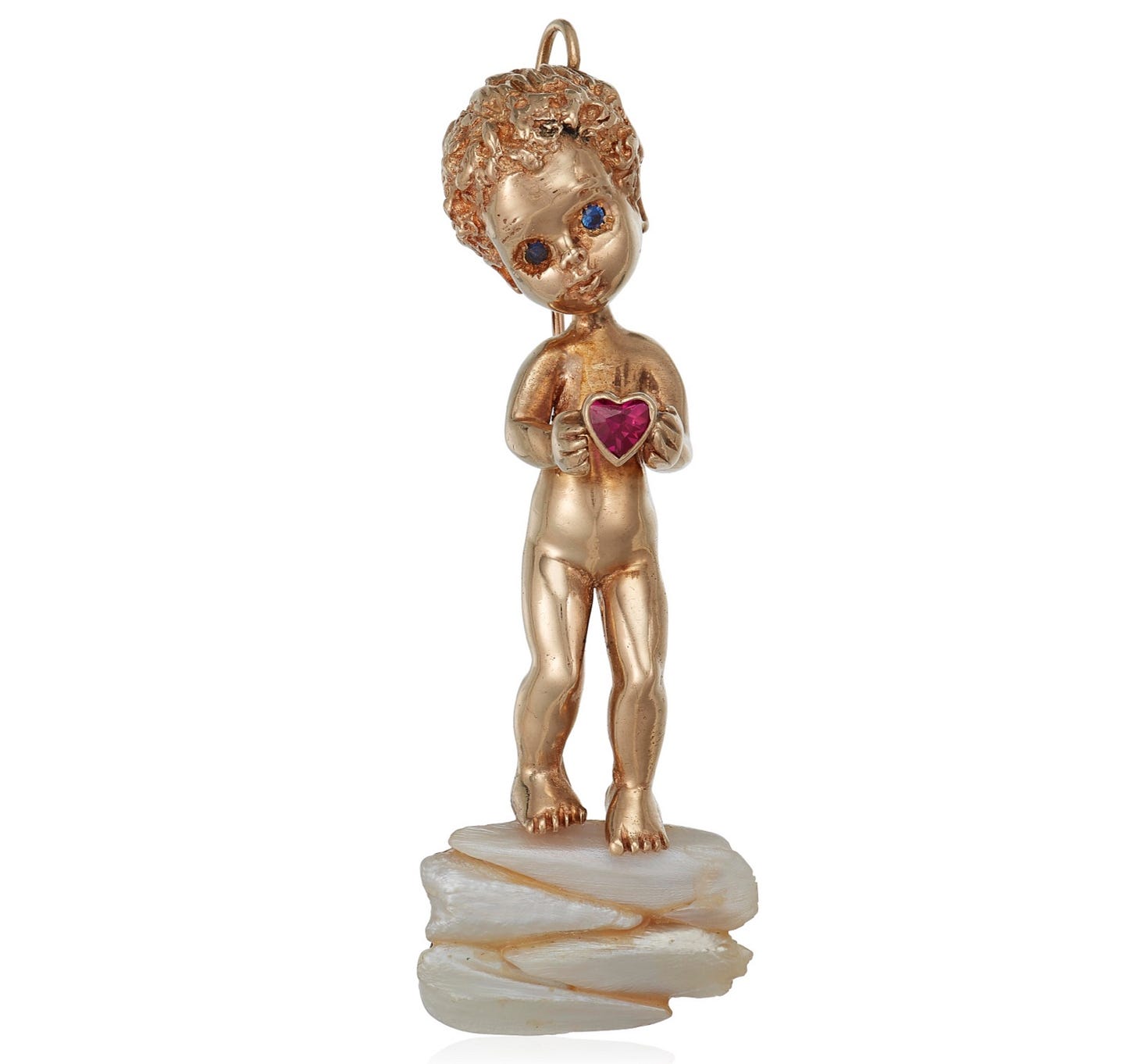 NOPE.
---
Circa the 1920s-30s, this vintage white metal spiderweb necklace features glowing oval cabochons of uranium glass. Often called vaseline glass here in the U.S. (due to the similarity in color to petroleum jelly), uranium glass goes back as far as the early 1800s, when glass makers in England and the Czech Republic started adding uranium to their glass as a coloring agent. The U.S. hopped on board later in the century, but production was eventually suspended during World War II because the uranium was needed for the Manhattan Project. After the ban was lifted in the 1950s, the popularity of uranium glass surged back, and it was used to create all sorts of tableware and tchotchkes.
As for, uh, the radioactivity……..it's really not bad, honest. This terrific deep-dive in Collectors Weekly goes into that further, but in general, it's not enough to be harmful. The uranium does cause the glass to glow an eerie green in ultraviolet light, so this necklace will easily suit all your Evil Disney Queen needs.
---
This beautiful circa 1890 French brooch features three elongated diamonds cut to mimic the blade and handle of a saber. Additional diamonds set in silver and gold (with a hanging swag) provide more detail on the handle and blade.
---
Ok that's it's for now, but I will finish this off today by sharing a ridiculous thing I won at auction last week, and whose face has significantly improved my life:
The world is on fire, so give yourself a break and embrace whatever nonsense brings you joy! Have a good week, everybody. xxx
---
Thanks for reading, and if you haven't already subscribed, sign up here: