A spiteful Dowager, a sphinxy Sarah Bernhardt, and a warbling hare
Also: The death of my youth
Hi all! I'm back, and following up on last week's newsletter (if you didn't get it, check your spam!) with a somewhat more eclectic range of shiny auction nonsense.
This month, Christie's is selling pieces from the collection of Gloria, the late Dowager Countess Bathurst. Gloria was pretty glam in her day — she was born in Elizabeth, New Jersey in 1927 to English parents, but she grew up to become a house model for Parisian couturier Jaques Fath in the 1940s, and later moved on to further modeling success in London, where she married her first husband — a rich, widowed lawyer with close ties to the art world. Following his death, she married Henry, the 8th Earl Bathurst. They were together for 33 years.
Gloria sounds like a real piece of work. Both of her husbands came with a raft of children, and according to a "friend," "[Gloria] was a difficult woman to love and not one to show a lot of emotion or affection. And she was certainly never a winner of kiddies' hearts." The Earl died in 2011, and things went waaaay downhill from there, with a bitter court battle between Gloria and the Earl's son (which she lost), and among various other outrages: "A Sapperton parish councillor said this week that the Dowager Countess had also blocked the village fete." *GASP*
Anyway, Gloria wound up cutting the Earl's son out of her will (she died in 2018) and leaving most of her $41 million personal fortune to two interior decorator friends. All of this and much more — including the quotes above — is recounted in the Daily Mail (where else), in case you want to read the whole sorry tale. (The son's fine, btw — he still got the title and the ancestral pile and all that stuff.)
Gloria was a collector herself, but many of the auction lots — including family portraits — came from her husband's families, and her stepchildren from both marriages are furious (another DM link, sorrysorrysorry) that these two random dudes are now cashing in by selling off their history. I would also like to point out the fact that the Mail says Gloria had "Alzheimer's and failing eyesight," which sends up warning flags when it comes to late-stage "friends" and wills, but I'll stop there so I don't get sued.
The pieces are being sold primarily in the "Gloria: Property from the late Dowager Countess Bathurst" auction at Christie's London on July 22, with additional items scattered throughout other, more specialized, auctions. One notable piece is this ca. 1710 Queen Anne embroidered bedcover, which is believed to have been given by Queen Anne (1665-1714) to Frances, Lady Bathurst, the wife of Sir Benjamin Bathurst Kt., M.P. (who was treasurer, and later cofferer, of the Queen's household).
There's also the amazing bronze inkwell above, which was designed by the French actress and artist Sarah Bernhardt. Circa 1879, it's a self-portrait of the actress as a Chimera — in this case, a winged sphinx with clawed, animalian limbs, clutching a bowl flanked by ram's horns with a central devil's head. The inkwell is hidden under the book, and there's a pen rest in her hair.
The combination of the high ruffled collar and bow framed by sinewy limbs and bat-like wings is brilliant and unsettling. According to Christie's, Bernhardt's design may have been inspired by a role — "In 1879 Bernhardt was rehearsing for the role of Blanche de Chelles in Octave Feuillet's play Le Sphinx. In the play the mysterious and demonic heroine wore a poison ring in the form of a sphinx" — but they also leave open the possibility that she was simply depicting herself as she would like to be envisioned. (She did keep a satin-lined coffin in her bedroom, after all.)
The inkwell will be offered for sale in the "Classic Art Evening Sale: Antiquity to 20th Century" at Christie's London on July 29.
Also included the Bathurst collection is this ca. 1910 diamond tiara by Cartier. It was commissioned by Lilias, Countess Bathurst (1871-1965), and according to an interview in Tatler, the stones were assembled from two tiaras that were owned by her mother. The piece will be included along with various other antique tiaras in the Christie's London "Important Jewels" auction on July 30.
---
Good lord, is there anything more chic than a rock crystal cigarette case? Ca. 1925, the case is included in the "Collection of a Connoisseur" auction at Sotheby's today, and features carved rock crystal with rounded corners, ogee-shaped platinum and diamond hinges, and, on the lid, a central bell-shaped ornament set with diamonds. The piece opens with a push on the cabochon-cut black onyx button. It's probably Cartier — the lot info says it's signed "Cartier Paris London New York" but the signature is "not fully legible."
---
The Christie's London The Collector: European and English 18th and 19th Century Furniture and Works of Art, Silver, Ceramics and Gold Boxes sale tomorrow is loaded with furniture, silver and various other baubles, many of which come with a royal provenance. It's all gaudy af.
I do need to call your attention to this French silver-plated teapot, though. It's marked Christofle, Paris, 1879, and according to the description, it was designed after a Meiji period bronze teapot in the shape of a hare, with a detachable lid and bamboo-shaped handle. I don't think it's so much a hare, though, as a warbling pig-bun.
---
I LOVE this. Circa 1870, this micromosaic bangle is loaded with archaeological revival details like tiny scarabs and granulated and rope-twisted gold. The word "ROMA" is marked out in gold and surrounded by white tesserae (the tiny pieces of glass that make up the mosaic), so I'm assuming it was a Grand Tour souvenir. It's a little beat up, but god DAMN this is 100% My Kind Of Thing. It's in the Bonhams London "Knightsbridge Jewels" sale tomorrow.
---
I guess it comes for everyone, that moment when you truly realize you're not 19 anymore. It happened for me as I was idly scrolling through the Bonhams online "Music Memorabilia" auction (also closing tomorrow), and this Reading Festival poster from 1991 reached out from my monitor and punched me directly in my old, sad face.
And yeah, Nirvana really ARE low on that list, as are Teenage Fanclub and Blur. But the festival was held in late August, and Blur's Leisure was released literally the day after, while Nevermind and Bandwagonesque didn't come out until September and November. My god, 1991: Screamadelica, Blue Lines, Loveless, The Low End Theory, Whirlpool. What a year.
---
An axolotl ring! The Bonhams "California Jewels" sale on Thursday includes a bejewelled rendition of the endangered salamander by Los Angeles jewelry designer Daniela Villegas. Made of 18k rose gold, it has sapphire eyes and a diamond- and ruby-set tail, with tiny limbs that clasp the wearer's finger.
---
The Christie's Russian Art online sale ends on July 21, and includes a range of paintings, porcelain, icons and a large collection of Fabergé items (including this August Hollming vanity case set with a spectacular moss agate).
There's also the little silver samorodok box above. It isn't particularly flashy, but it showcases an interesting technique that was very popular with Fabergé and other metalsmiths in Russia in the early 1900s. Samorodok means "nugget" in Russian, and the samorodok technique (which is also known as reticulation) consists of heating gold or silver almost to its melting point, and then suddenly cooling it with water. The abrupt change in temperature causes the metal to constrict and crinkle, leading to a textured nugget-like surface. This piece has a Cyrillic maker's mark for "M.S.," St. Petersburg, 1908-1917. It's also listed as "parcel-gilt," which means that part of it is gilded — in this case, the interior is washed with gold.
---
English jewelry designer Wendy Ramshaw (who sadly passed away last year at the age of 79), was known for her sculptural approach to jewelry. She often designed groups of rings like the ones above that could be worn separately or together, and paired them with their own stand, so that the final assembled product was in itself a tiny work of art. This particular seven-ring set is gold with a white base metal stand that unscrews to release the rings. It's ca. 1990 and is included in the Rago "Summer Jewels & Watches" auction on July 21.
---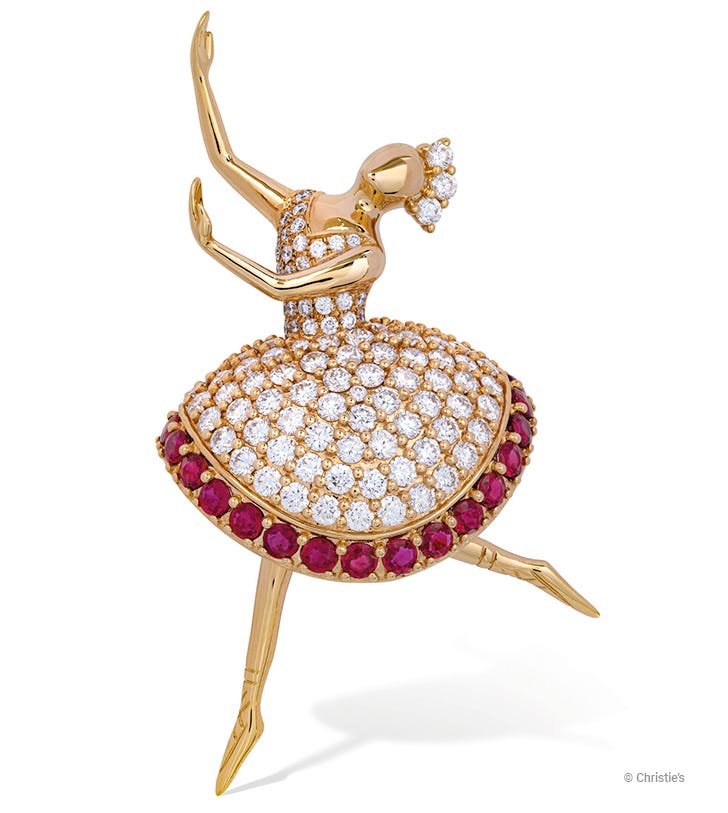 Have you ever hated something totally irrationally? Van Cleef & Arpels has been making these little dancer brooches since the 1940s and I despise them. This one, which is included in the Christie's Magnificent Jewels auction in Geneva on July 22, consists of circular-cut rubies and diamonds set in gold. The lot details are trying to shame me out of my dislike by telling me that Louis Arpels dreamed up the first ballerina brooch thanks to his love of classical ballet, and the resulting series of dancer brooches "clashed intentionally with the restrictions and cruelty felt during the 1940s, which were marked by World War II." That's great! I'm glad they gave people a boost! I still hate them.
There are also a couple of giant, unmounted diamonds in this sale, but the most expensive lot is this platinum and diamond ring by Parisian jeweler Reza. It features two internally flawless pear-shaped brilliant-cut diamonds — one a Type IIa clocking in at 5.37 carats, and the other, a fancy vivid blue, at 5.34 carats. Estimate $8.5 - $12.8 million.
---
I'm bumping up against the email size restriction again, so that's all for now, friends. Feel free to share your own irrational dislikes (or your favorite early '90s shoegaze bangers) in the comments, so I don't feel so alone. Have a good week! xx
---
Thanks for reading, and if you haven't already subscribed, sign up here:
---