An angry fox, an illuminated bangle and the head of John the Baptist
Literally?
Hi everybody! Let me present my new favorite piece of jewelry: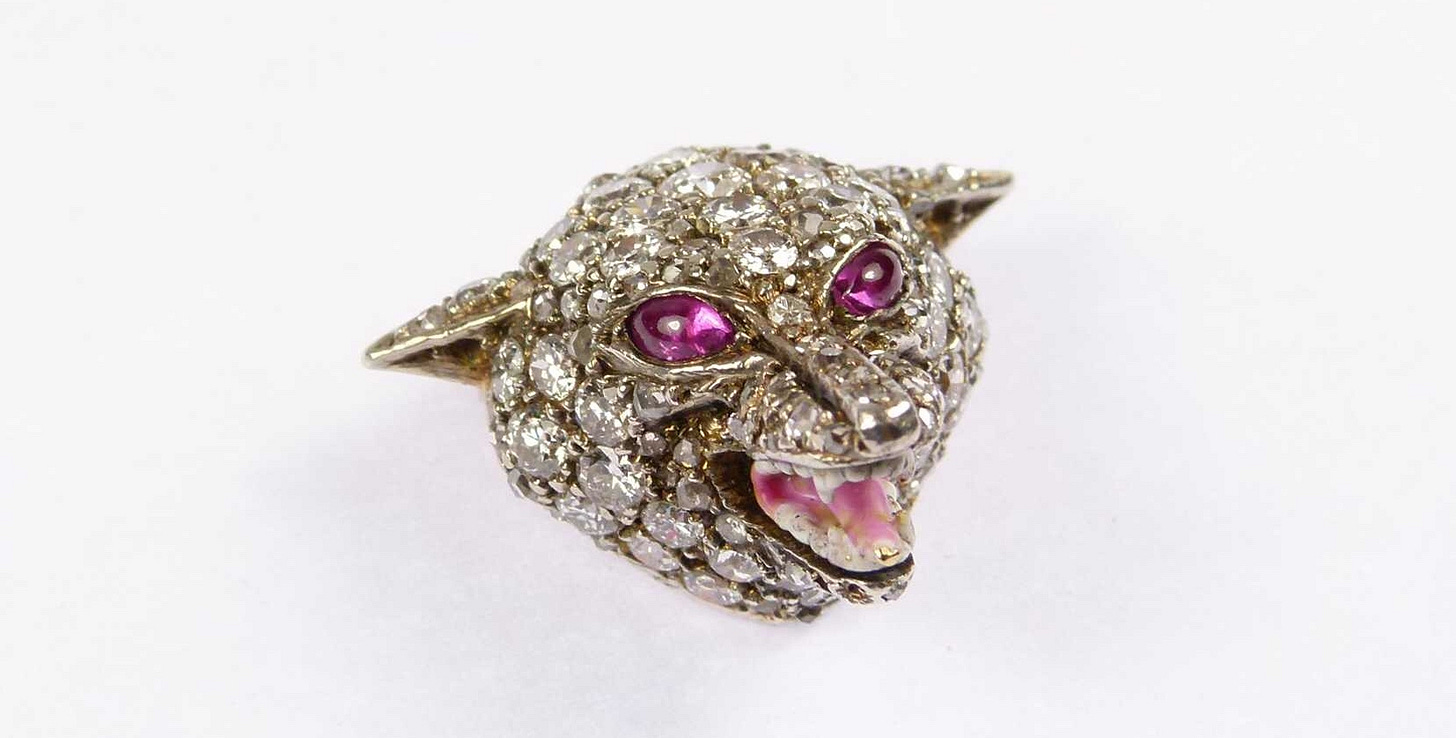 Exquisite, tiny perfection. This glorious little brooch is less than an inch wide, and just LOOK at it. It's an absolutely spot-on realistic portrait of a snarling fox, created with diamonds set pavé-style in gold and silver, with cabochon ruby eyes and a perfect pink and white enameled mouth.  
It's circa 1890 and English, so it was quite possibly owned or commissioned by a fox-hunting dickhead, but that doesn't mean we can't appreciate the skill of the jeweler who put it together, or the beauty and originality of the finished product.
---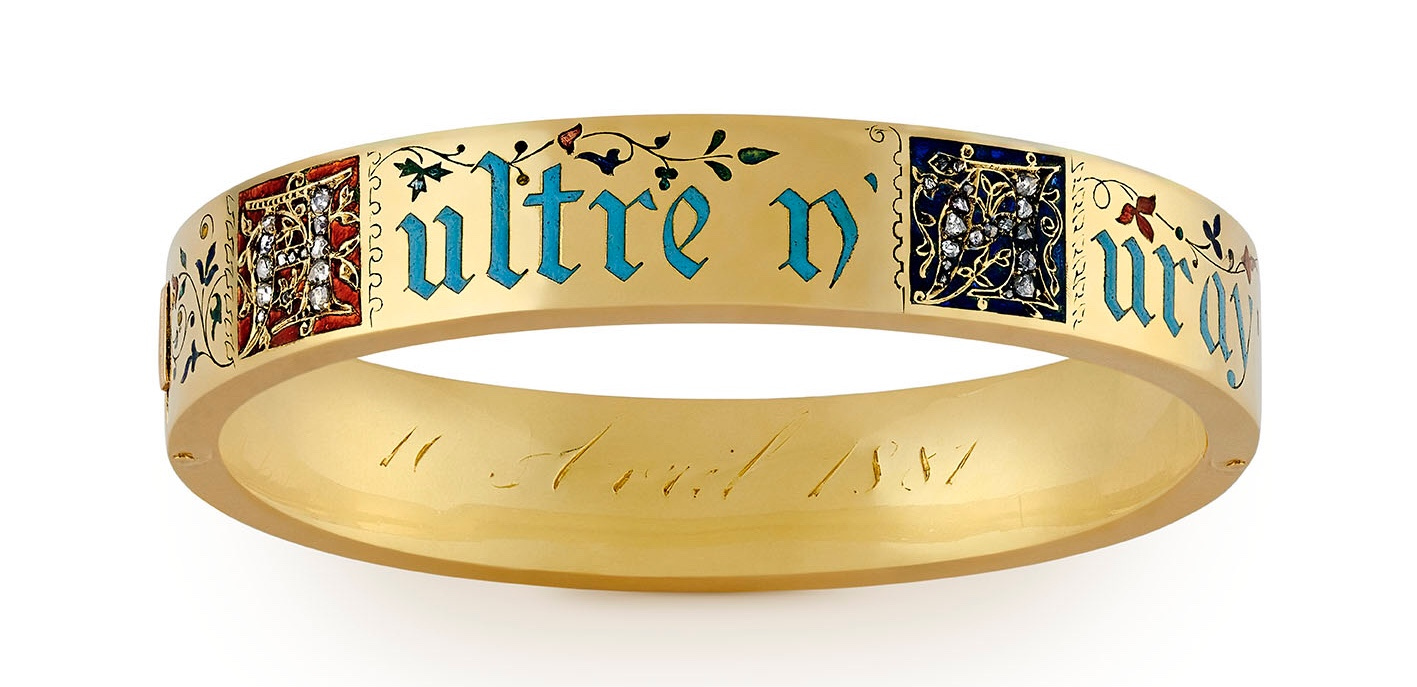 Circa 1881, Paris, this hinged yellow gold bangle is by French jeweler Lucien Falize. Falize trained at his father's jewelry firm for 20 years before he took it over in 1876, and as well as being obsessed with Renaissance and Japanese art, he is known for enthusiastically ushering the company into the Art Nouveau era. He was an exceptional enamelist, particularly using the basse-taille (French for shallow cut) technique, which dates to the 13th-14th centuries and involves placing translucent enamel into recesses that have been cut, carved or stamped into metal.  
The above bangle mimics the Medieval style of an illuminated manuscript, with a pristine enamel and diamond legend that reads "Aultre n' Auray," or "I would have no other." Those initial letters!
According to the Metropolitan Museum of Art, both Lucien and his father Alexis created this style of gold bangle, and Lucien described them as "intimate mementos…. as precious as illuminated parchments." Click that Met link to see one that's even more densely ornamented, with the legend "Moult Aime Qui Attend," or "From Waiting Comes Great Love."
---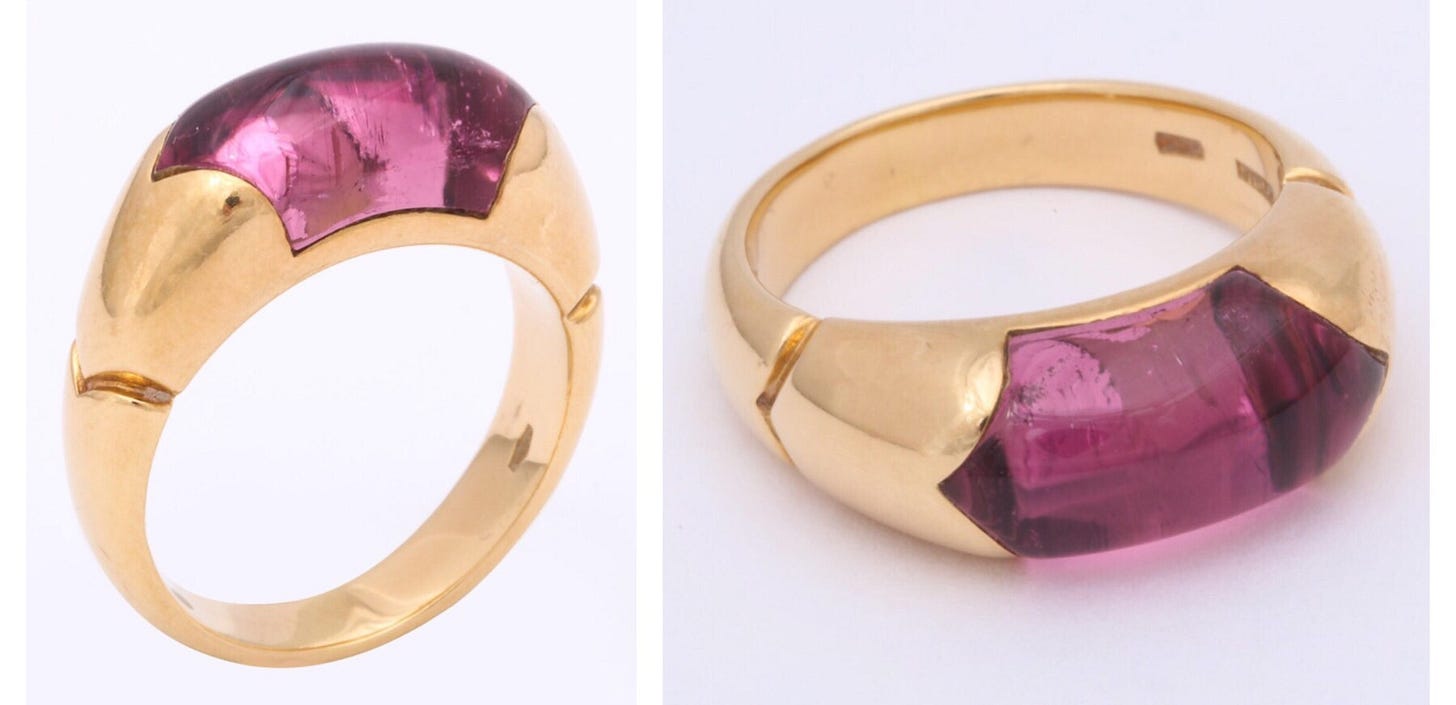 This ring isn't particularly old - only from the 1980s - but I like the sleekness of it. It's from Bulgari's Tronchetto collection, and features a 4-carat cabochon-cut pink tourmaline set flush in an 18k band. I'm forever drawn to jewelry that looks like candy.
---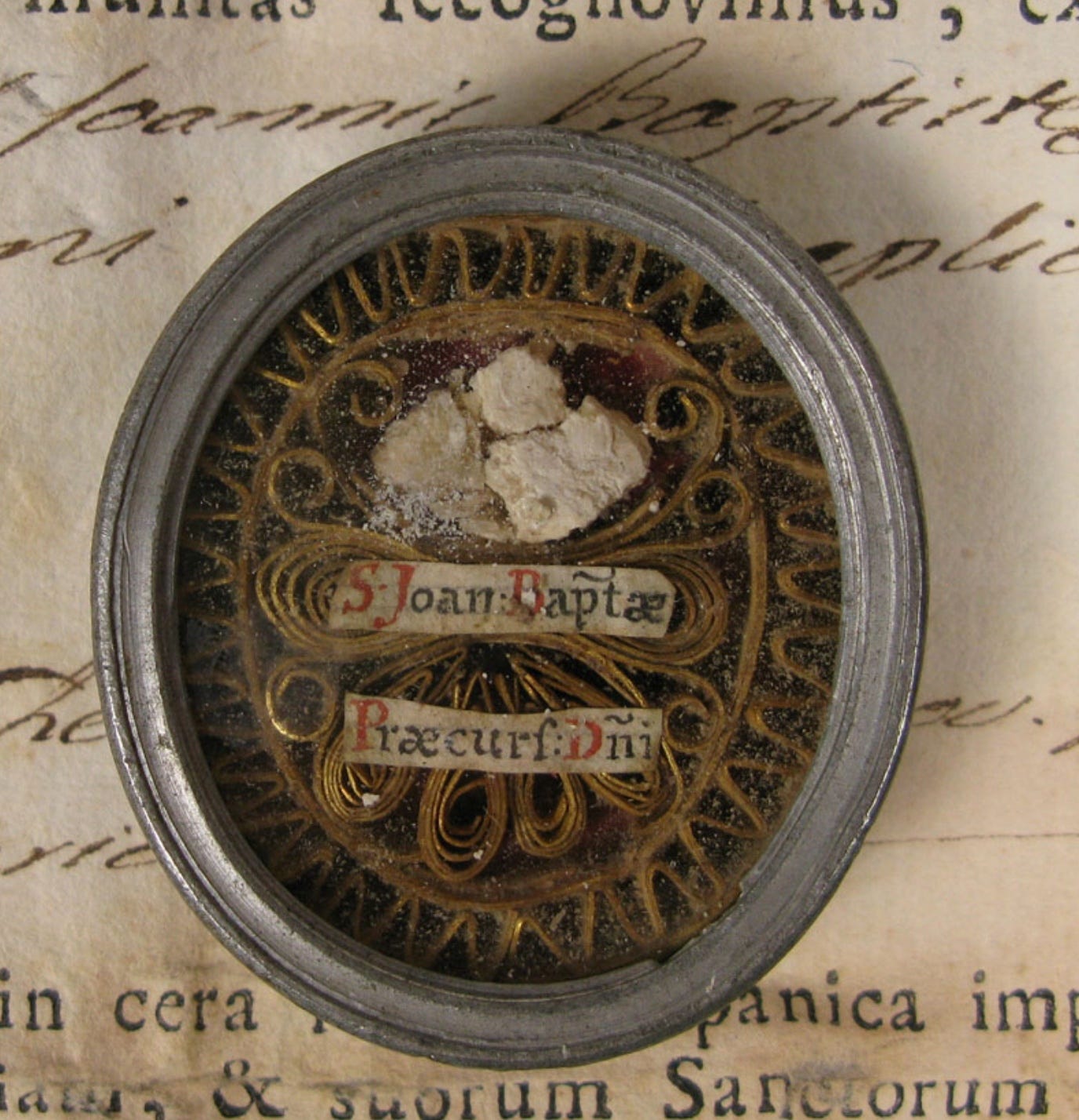 I stumbled across this site the other day and it's a doozy. Alongside Russian Orthodox icons, it offers almost exclusively first- and second-class Catholic relics. First-class relics are body parts of saints or instruments of the Passion of Christ (fragments of the True Cross and whatnot), and second-class relics are items used by the saints, such as clothing, rosaries, bits of their coffin, etc. (There are third-class relics, too, which are items that have touched a first- or second-class relic.)
Catholic canon law (Chapter II: Extraction of Fragments and Creation of Relics, Article 25) states that the sale of relics and their display in "profane or unauthorized places" is "absolutely prohibited," but this company gets around that by saying they're Orthodox, so it doesn't apply to them. Hmmm.  
Anyway, because the Catholic Church doesn't do anything by halves, there's a whole process for the creation of relics that's still followed today. ("The dismembering of the body is not permitted unless the Bishop has obtained the consent of the Congregation for the Causes of the Saints for the creation of significant relics," is a helluva sentence to read in 2017 canon law.) 
Most of the relics on sale here are "theca," which are little locket-type boxes. The relic is sewn into the box with red thread, and then it's closed with red wax and imprinted with the seal of the Church official who okayed the preparation of the relic. There's also an accompanying document of authenticity, just like sports memorabilia.
According to the site, the above brass theca contains a piece of St. John The Baptist's head. "True Head," sorry. It's placed on a red silk background with quilled gilt paper and an identifying bit of manuscript, and the box is closed with a red wax seal imprinted with the coat of arms of Cardinal Bernardino Honorati, Titular Bishop of Santi Marcellino e Pietro al Laterano in Rome. It has a matching authentication document signed by Honorati in 1802.
John the Baptist's head actually did quite a bit of traveling after his death, and in addition to various other legends about its location, it is currently on display in churches in both Rome and Amiens, and is also believed to be interred in the Umayyad Mosque in Damascus.
So of course my brain is screaming "faaaaaaaake fakefakefakefakefake," but what do I know. And if somebody needs to believe it IS real, cool; we've all got to find our own ways to survive this Hell World we've created. And if somebody NOT involved with the Church is profiting from it, I'm cool with that, too. Especially after reading about how, in my state of Pennsylvania alone, the Church spent $5.3 million to lobby against the lifting of the statute of limitations in child sex abuse cases. That's money they took from my good, kind parents, who barely have two pennies to rub together. The Church can pound sand. 
On that note, go forth this week and KICK SOME ASS, my friends. xxx