Auction Season, Part 1!
Featuring Vita Sackville-West's emerald, Lewis Carroll's second-best watch, and some vermouth oil cans
Hello, my friends! In case you missed the subject line, it's AUCTION SEASON! And I have spent SO MUCH TIME scouring through a billion auctions in order to bring you some of my favorite random items. There's a lot to cover, so I'll split this post into two parts — first half today and the follow-up next Monday.
I'm actually going to start out today with a piece from an auction that took place last week, just because it's pretty. Above is a circa 1850s Renaissance Revival hinged bangle by Parisian goldsmith and jeweler Froment-Meurice. It's gold, with an open-work floral motif covered in pink, black and white enameling set with alternating pearls and sapphires, rose-cut diamonds and rubies accenting the borders. The bracelet was originally purchased by Carl Jacobsen (one of the co-founders of Carlsberg Beer), as a gift for his daughter, and it sold last week for above its $13-19k estimate at $22,533. [Also, did I only mention the Carlsberg thing so I could make sure you haven't missed their brilliant ads starring Mads Mikkelsen? Probably!]
---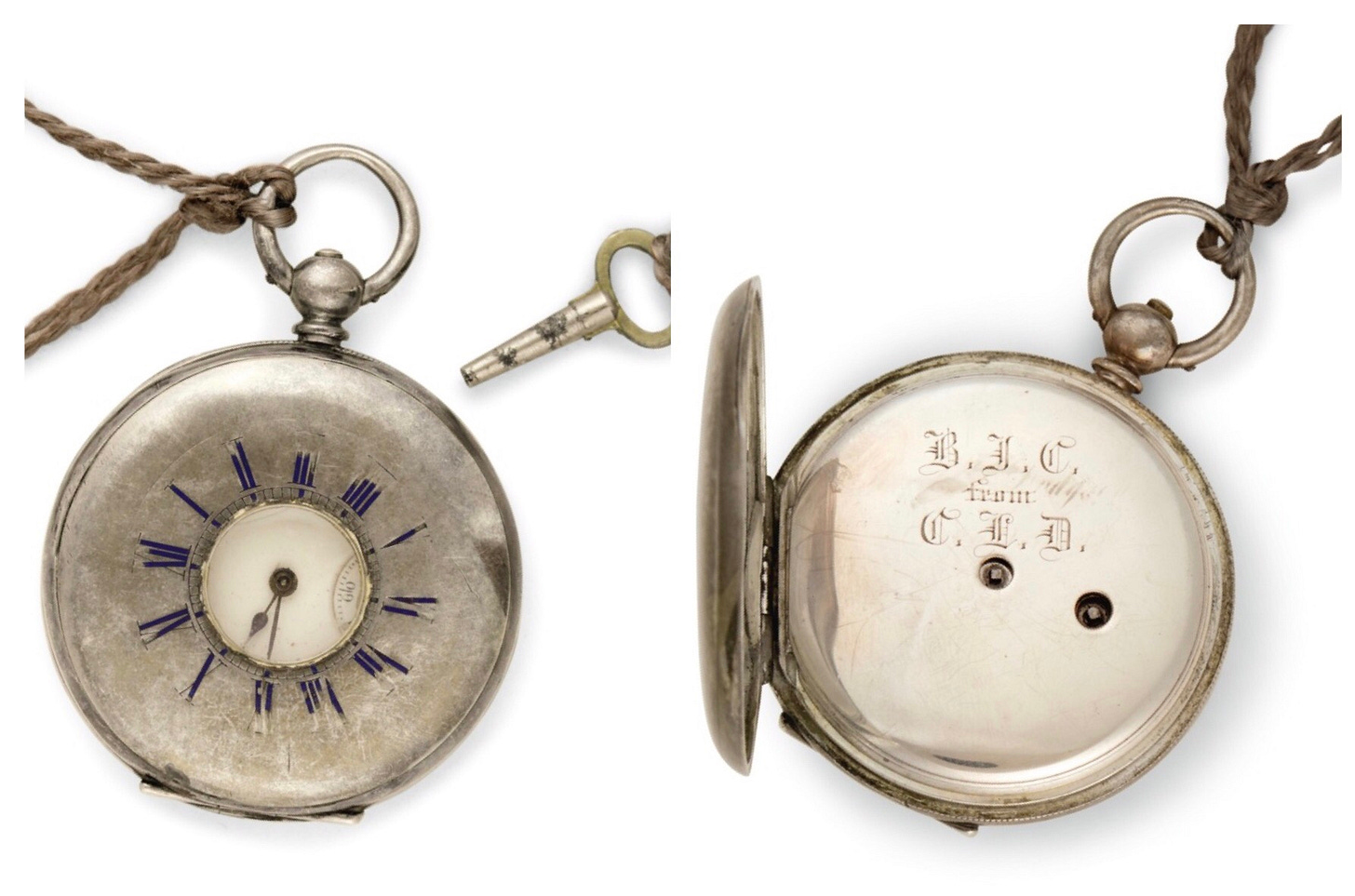 This is Lewis Carroll's "second-best silver watch," and it's included in the Sotheby's "English Literature, History, Children's Books and Illustrations" online auction starting tomorrow (and on exhibit at Sotheby's London through December 10). The watch is a silver half hunting Swiss watch, circa 1880. Half hunting (or hunter) cases have a little central glass window through which you can see the watch hands. The hours are enameled around the outside of the window, so that the owner can quickly view the time without having to open the case.
Carroll, whose real name was Charles Lutwidge Dodgson, gave the watch to his nephew, Bertram Collingwood, and had it engraved with their initials. The "second-best silver watch" designation comes from his personal diary notes for May 1, 1883, which state: "To Bach [a German watchmaker based in London], to leave my second-best silver watch to be put in order as a present for Bertram."
---
This tiny (1 x 7/8 in) antique diamond brooch will go on sale tomorrow in Boston, at Skinner's "Important Jewelry" auction. A faceted yellow diamond forms the hull of the ship, with mast and sails set with old European-cut diamonds in silver and gold.
---
The Skinner "Fine Jewelry Collections online" auction started last week and closes on December 4, so there's still time to get in there with a bid if you're so inclined. As of writing, there are no bids on this early Victorian branch coral tiara, and I would just like to say: FFS, DO I HAVE TO DO EVERYTHING MYSELF?
---
This little doozy is going up in the Bonham's "London Jewels" auction on December 4. It's a Cartier necklace from 1912, and it features a 99-carat cushion-shaped Mughal Indian emerald that is engraved on both sides with floral motifs. (It's also cracked, but ignore that part.) The emerald is set within a frame of frosted and engraved rock crystal, and further embellished with old brilliant and single-cut diamonds. It's attached to a long black cord with matching engraved rock crystal and diamond barrel-shaped slides.
This necklace was actually a gift from Victoria, Lady Sackville of Knole, to her daughter Vita Sackville-West, as a wedding gift for her marriage to Harold Nicolson in 1913. It's literally been in a safety deposit box for 50 years, and you can watch a video about it here, complete with insights from Vita's granddaughter, Vanessa Nicolson.
---
I'm not usually drawn to portrait miniatures, and the Sotheby's London "Pohl-Ströher Collection of Portrait Miniatures, Part III" auction on Thursday is full of the usual depictions of bilious-looking men in wigs. But there's something immensely engaging about the lady above; something that makes me wish I could have been her friend. By François Dumont — one of the greatest French miniaturists — the piece is listed as "Portrait of a lady holding a young spaniel," circa 1780, in watercolor and bodycolor (aka gouache, or opaque watercolor) on ivory set in gilt metal.
---
Oh my god. Ages ago, I shouted about a bunny chariot micromosaic for the Hairpin, and I never dreamed I'd see another one! But here we are. This circa 1850 demi-parure (a small set of a few pieces of jewelry meant to be worn together; a larger set of 6-7 pieces is a parure) consists of a brooch depicting Cupid in a shell being drawn by a butterfly, with earrings that respectively feature a dog in a chariot being pulled by two ducks (!), and the aforementioned bunny and peacocks. They're all micromosaics set in aventurine glass and mounted in matching beaded gold frames, and were most likely a Grand Tour souvenir for a 19th century English or European traveler in Italy.
The set will appear in the "Gold Boxes" sale at Christie's London on December 5. Gah.
---
Skinner's online "Gentleman's Auction" ends on December 5, and it's full of such manliness as "Hot Rod" movie posters, watches, whisky, desk accessories and barware. Despite being a mere woman, I still want these little 20th century Tiffany & Co. sterling silver oil cans that are actually vermouth droppers.
---
High-society masquerade balls were all the rage in the 18th and early 19th centuries, and jewelry memorializing them served to prolong the fun. This circa 1830 gold ring, which is available in the December 8th "Fine Jewelry" auction at Rago, features a masked face in enamel, with old mine cut diamond eyes and a ruby (don't say ball gag DON'T SAY BALL GAG) mouth. The face is actually hinged, and flips up to reveal a tiny enameled compartment within, and the back of the ring features the words "Gott beoch itye dichund die deini gem," which Rago translates as "God bless you, you're a gem." The ring is in somewhat rough shape and I really wish they had photos of the inscription, but whatever, still cool.
---
Ok, that's it for this week! Be sure to click through to browse the full auctions yourselves, because there's a ton of good stuff there, and I had to edit my selections pretty heavily to get this down to a reasonable length. Also, feel free to reply to this email or find me on Twitter at @rococopacetic, especially if you would like to indulge in some inarticulate screaming about your faves.
Next week: The big "Magnificent Jewels" auctions, and a continuation of the less intimidating (and more interesting, tbh) alternatives.
Have a good week, everybody! See you next Monday. xxx
---
Thanks for reading, and if you haven't already subscribed, sign up here: