Auction Season, Part 2!
Featuring a mechanical beetle, Theda Bara's jeweled leg band, and the severed head of Orpheus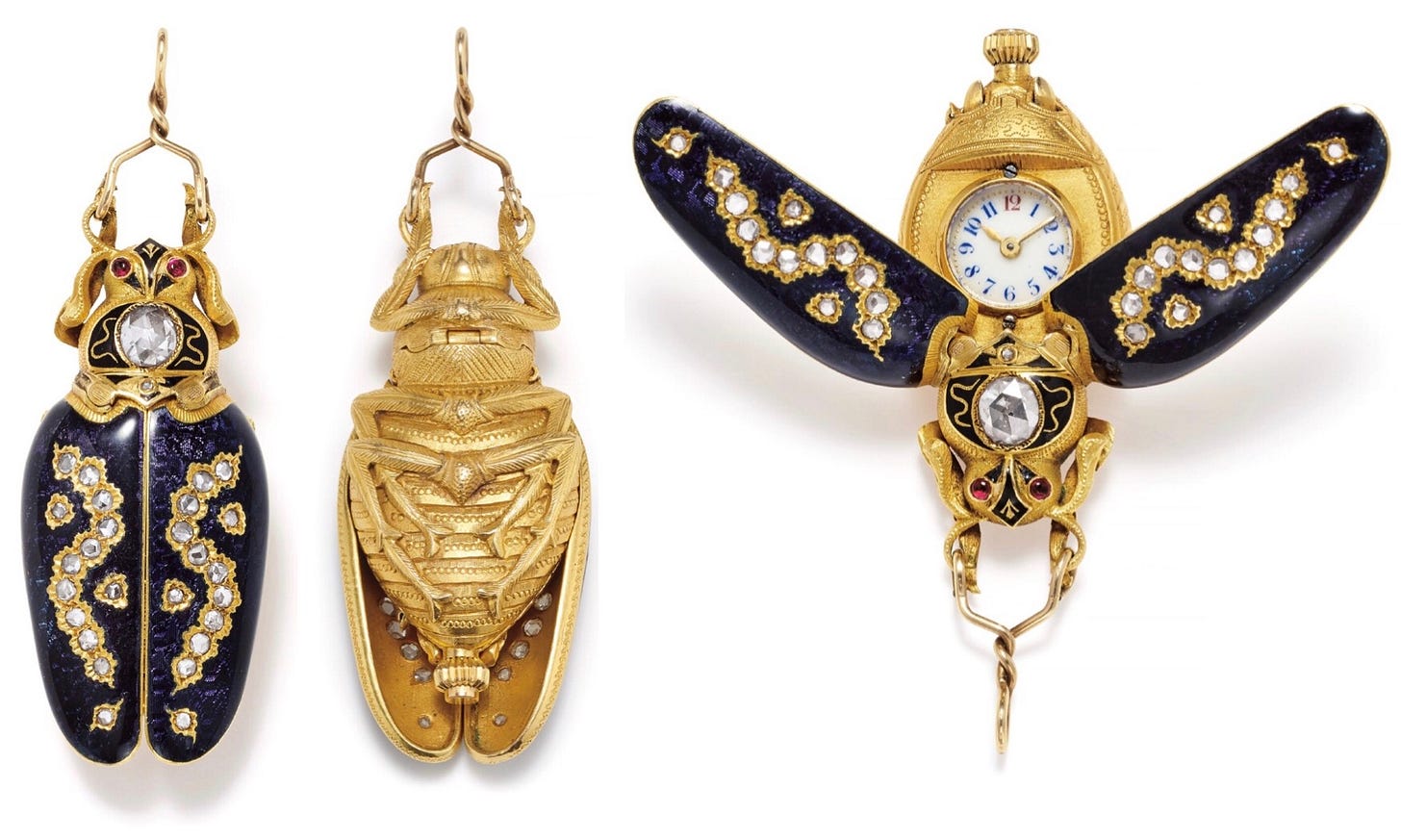 Hello friends, and welcome to Auction Season, Part Deux! First up, we have a gorgeous antique watch pendant in the form of a beetle (or cicada?). It's the first lot in today's "Jewels" auction at Phillips New York, and it's 18k gold with cabochon garnet eyes and enameled wings embellished with rose-cut diamonds. The wings open to reveal a watch with a manual Swiss movement. There's very little info included in the description (aargh), but it looks like the wing mechanism opens when the pin at the base of the pendant is pulled down. Check out the detailing on the underside! Gorgeous. (Note: It just sold at the top end of its estimate for $6,000.)
---
The Sotheby's Magnificent Jewels auction is tomorrow in New York, and of course it features a ton of exquisite super high-end jewels — but to be honest, nothing's really blowing me away. This blue ice cube is a pretty color, though, so feel free to go for it if you have a spare $6-8 million kicking around. The ice cube is actually "The Indian Blue," a 7.55 carat fancy deep grayish blue diamond, and it's flanked by two shield-shaped diamonds on an iridium-platinum alloy band.
There IS a nice little collection of Giuliano jewelry in the sale, though, so all is not lost. Carlo Giuliano was an Italian goldsmith who moved to London in the 1860s, where he created jewelry for various retailers in the city and eventually opened up his own shop. He was deeply influenced by the Renaissance, and created his own incredibly delicate and ornate Renaissance Revival and archaeological-style jewelry, with tons of intricate enameling and lovely gemstones. He died in 1895, but his two sons, Carlo Joseph and Arthur, continued the business until the start of the First World War. Their work is very similar to their father's.
The circa 1870 necklace and earrings above are by Carlo. The fringe necklace features 19 beautifully carved bud-shaped garnets set in gold, with green and black enamel accents and seed pearls. The matching earrings have post backs that were added later.
---
Bonhams Los Angeles is holding a "TCM Presents ... 1939: Hollywood's Greatest Year" auction tomorrow, and it includes loads of cool old Hollywood props, including Nick Charles' trench coat from Song of the Thin Man and a Glinda the Good Witch test wand from The Wizard of Oz. There's also Theda Bara's adjustable beaded leg band from Cleopatra, and anyone who says they don't want to try that thing on and sashay around for a while is LYING. From 1917, it's gold metal with a central scarab flanked on either side by a serpent motif and nine suspended strands of ruby-colored beads. (The beads on the right of the photo are an additional 11 strands that have fallen off over time.) Be sure to click through to the lot to see a photo of Bara wearing the band.
---
The Sotheby's "Spetchley — Property from the Berkeley Collection" live auction starts on December 11th, and includes this rock crystal "charmstone" pendant that may date to the 7th or 8th centuries (with a later 17th century silver mount). There are a whole bunch of "probably"s in the description, but in general, Sotheby's thinks it's probably Scottish, and notes its similarity to the Glenorchy Charmstone in Edinburgh's National Museums of Scotland. The Glenorchy Charmstone is thought to date to the 7th or 8th centuries, and probably (there's that word again) originated as a decorative element set into a reliquary. The Campbell clan of Glenorchy in Argyll later used the stone as a talisman to ward off witchcraft and illness, and Sir Colin Campbell wore it while fighting the Turks in the 15th century. So all of that leads Sotheby's to speculate: "The Spetchley pendant may well be later in date but probably also came from a reliquary (given its shape). It is a tantalising theory that it too was once used as a charmstone in the distant past." Hey, why not.
---
Christie's London is holding an "Important Books, Atlases, Globes & Scientific Instruments from the Collection of Nico and Nanni Israel" auction on Wednesday, and it features this "highly important" medieval brass astrolabe quadrant from Southern France. An astrolabe is a hand-held circular map of the universe, and it can be used to make astronomical calculations and determine things like latitude and time of day via the placement of the sun and stars. (Please excuse the grade-school-level explanation, as I am emphatically NOT an astronomer.) An astrolabe quadrant is basically an astrolabe folded in half and then folded again, and it's extremely rare. There are only eight recorded medieval astrolabe quadrants, and this is both the earliest and the only one in private hands that still has its original leather case. It was made sometime between 1291-1310.
---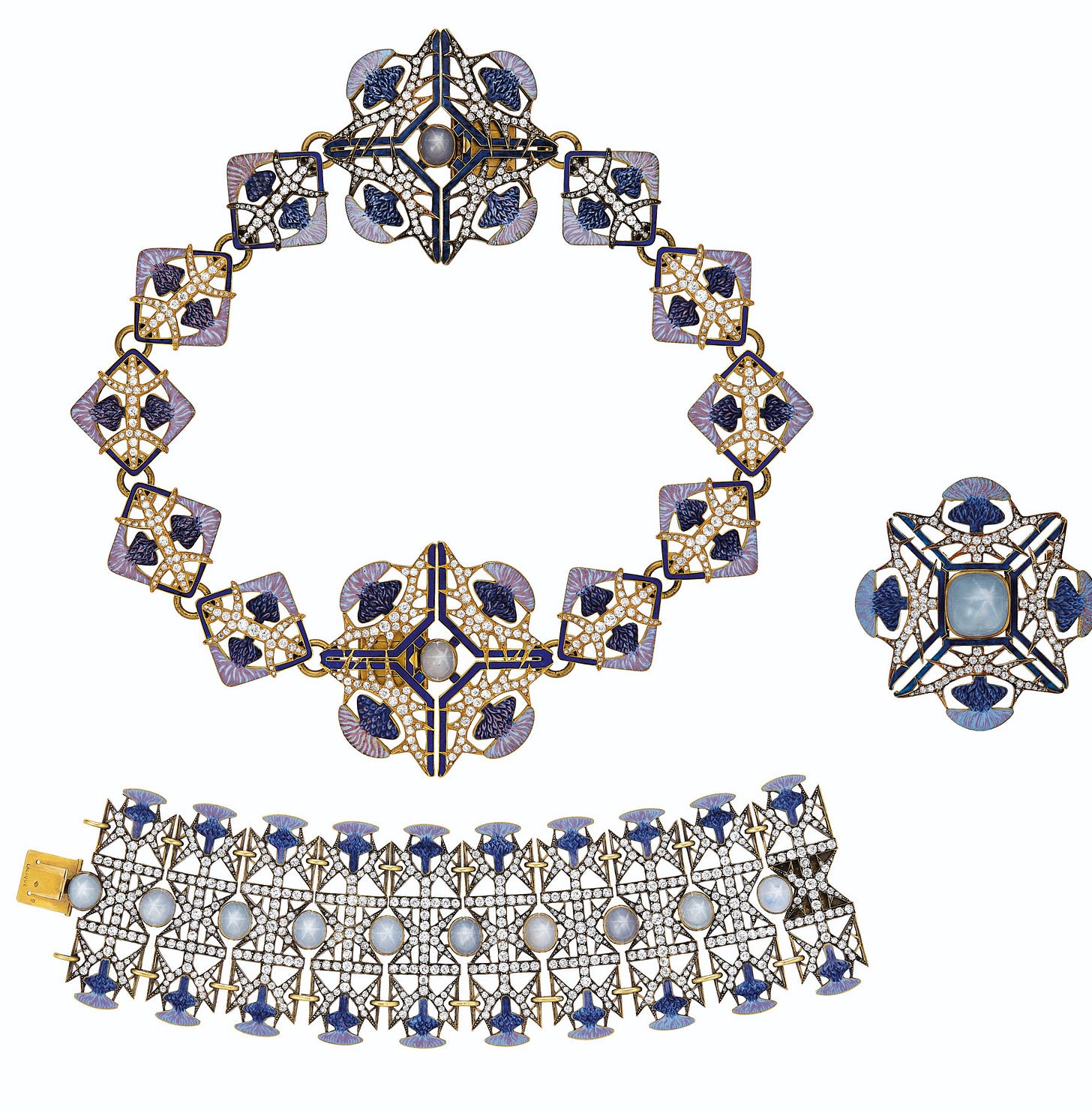 The Christie's "Magnificent Jewels" auction is also on December 11, and happily there's a lot of my kind of nonsense alongside all the massive chunks of bling. There are a lot of pieces by Giuliano and his sons (click here to see one of their necklaces) included in this auction as well, and also a lovely collection of jewelry by René Lalique. Included in that collection is the "Thistle" suite above, which is a rarity because it's very unusual to find a full matching set of Lalique jewelry.
The suite is circa 1900, and consists of a necklace, bracelet and brooch in 18k gold with dark blue, lavender and pink enameling, star sapphires and old and rose-cut diamonds. The necklace can be separated and worn as two bracelets.
This circa 1910 Art Nouveau tiara by French jeweler Henri Vever features old, single and rose-cut diamonds in a platinum bat-wing setting, and I require it to fulfill my Evil Disney Queen aspirations.
This is the "Blue Venus," a 4" tall sculpture originally owned by Prince Felix Youssoupov (1887-1967), the flamboyant Russian aristocrat and co-conspirator in the murder of Rasputin. The Youssoupov family was wealthier than the Romanovs, and this Venus statue is one of the items Felix took with him when he and his wife Irina, the niece of Tsar Nicholas II, fled the Russian revolution in 1917. They eventually settled in France and were happily married for over 50 years, despite losing their remaining fortune to a combination of excessive generosity, an extravagant lifestyle and bad business decisions. Fun fact, though: In 1932 they sued MGM for libel, alleging that the film Rasputin and the Empress made it appear that the character based on Irina was seduced and raped by Rasputin. They won and were awarded a ton of money in damages, and this case set the precedent for the "The preceding was a work of fiction, any similarity to a living person…" disclaimer that we're all so used to seeing at the end of American films.
ANYWAY, back to the sculpture. Circa the mid-19th century, it depicts the figure of Venus in carved sapphire, with a base of spinel encased in diamond-set silver. The underside of the piece features an intaglio of Medusa carved into the spinel.
Christie's notes that "One version of the figurine's history suggests that Catherine the Great gave the piece to her alleged lover, Prince Nikolai Youssoupov (Felix's great-great-grandfather). However, no official records exist to confirm how the sculpture, eventually dubbed the Blue Venus, came into the Youssoupov family's collection."
This gorgeous Art Nouveau brooch depicts Orpheus, the legendary poet and musician of Greek mythology, who — according to some versions of the myth — was torn to pieces by the Maenads because he wouldn't join in their Dionysian orgies. His still-singing head was cast aside to float down the river, where it eventually came to rest on the shore of the isle of Lesbos and was buried by the Lesbians. The brooch features his profile in carved hardstone, in a gold setting dripping with old, single and rose-cut diamonds. It's circa 1900 and attributed to the Parisian jeweler Gabriel Falguières.
Ugh, GIVE ME THIS. A circa 1915 Belle Époque sapphire and diamond ring, featuring a 30.14 carat untreated Kashmir sapphire set in platinum. It's estimated at $3.5-5.5 million. It's already in my size. *sob*
---
Christie's London is holding a "Property from descendants of Their Majesties King George V and Queen Mary" auction on December 13, and I absolutely adore this George V silver grenade table lighter from 1935. It was originally a wedding gift "to T.R.H. the Duke and Duchess of Gloucester, November 1935 from 'the Royal nephews,' Viscount Lascelles, later George Lascelles, 7th Earl of Harewood and The Hon. Gerald Lascelles." Hallmarked for the Goldsmiths & Silversmiths Co. Ltd, it features an engraved "H" for Henry, Duke of Gloucester, set within a garter motif crowned with a prince's coronet.
---
Ok everyone, I'm going to leave it at that, as it's horrendously late and I'm probably speaking gibberish. I'm sure I've forgotten to include some treasures that are scattered among the 200 tabs I have open on my iPad, but if I rediscover something that demands sharing I will include it in a forthcoming email.

I hope you all have a wonderful week! Be kind to yourselves. xxx
---
Thanks for reading, and if you haven't already subscribed, sign up here: