Biggie's crown, Slick Rick's diamond eye patch, and a remembrance of Rammellzee
Sotheby's goes hip-hop.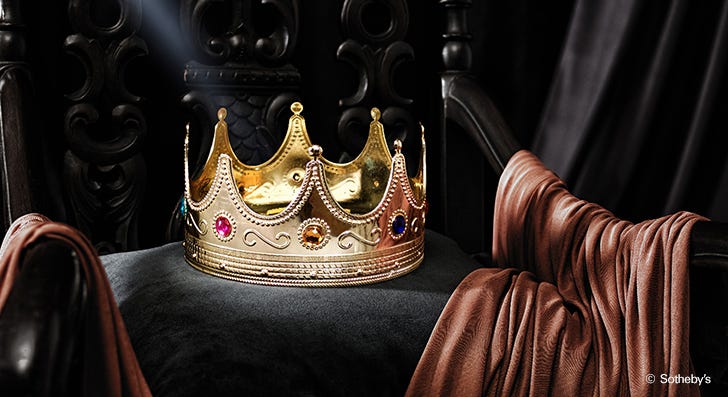 Hi all, it's been ages and there's a lot going on right now, but there's an interesting auction coming up and I can't let it go by without bringing it to your attention. So, this edition of Dearest will focus solely on "Hip Hop," happening tomorrow at Sotheby's New York. Featuring 120 lots of artifacts, art, photography, experiences and ephemera, the sale "reflects on the impact Hip Hop has had on art and culture from the late 1970s through the "Golden Age" of the mid-1980s to mid-1990s, and up to the present." Part of the proceeds will support the hip-hop programs of the Queens Public Library Foundation, and Building Beats, a non-profit community organization that provides DJ and music programs that teach entrepreneurial, leadership, and life skills to New York City's low-income and minority youth.
I'll start off with the King: The plastic crown you see above was worn by the Notorious B.I.G. for his iconic 1997 K.O.N.Y. (King of New York) portrait. Taken by photographer Barron Claiborne for the cover of Rap Pages magazine, the photo sadly turned out to be Biggie's last, as he was killed three days later in a drive-by shooting in Los Angeles. You can check out the contact sheets here, which include a delightful outtake of a smiling Biggie with dimples on full display (Daily Mail link; my apologies).
The crown features multi-colored plastic gemstones and is signed by Biggie Smalls, and also signed and inscribed "Crown from Biggie KONY Shot. 3-6-97" by Barron Claiborne. It's been in Claiborne's collection since the shoot, and is the highest valued lot in the auction, with an estimate of $200,000 - $300,000.
---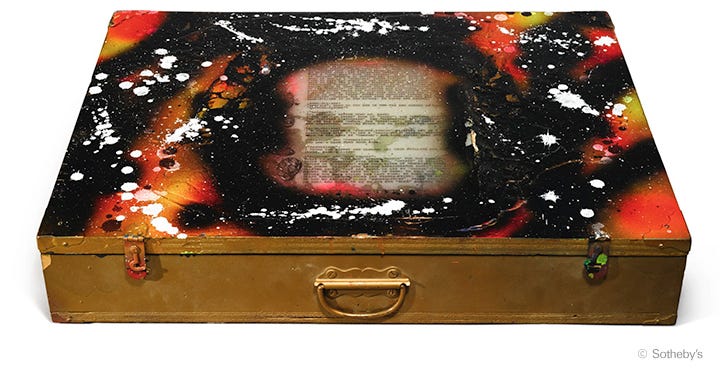 Now, if you were a pathetic '80s grade school art dork like myself, you probably spent AGES poring over each giant issue of Andy Warhol's Interview, hoovering up details about the real-time exploits of Jean-Michel Basquiat, Isabella Rossellini and all those other members of the Impossibly Cool club. One of the lesser-known members of that club was a guy called Rammellzee (or, as he preferred, RAMM:ΣLL:ZΣΣ, which he insisted contained a mathematical equation).
Rammellzee was a Renaissance man: An artist, rapper and philosopher originally from Far Rockaway, Queens, he inevitably wound up in Manhattan, where he became part of the New York Street Art scene of the late 1970s and '80s, alongside such illustrious names as Basquiat and Keith Haring. Working from a loft in Tribeca known as the "Battle Station," he became known for his paintings as well as his multi-media sculptures of carefully-selected junk embedded in epoxy — the piece above is his "Bands of Steel," consisting of spray paint, resin and found objects on a wood case; estimate $30,000-$40,000 — but he's probably best known for his Transformers-like "Garbage Gods," which were intricate, heavy costumes he fashioned for himself from found materials like fan blades, pipes and flamethrowers (!).
The dude was intense. As Dave Tompkins wrote in The Paris Review:
"Rammellzee had no time for punctuation, but all night for talking military engineering, tanks, dentistry, deep-sea bends, gangster ducks, and loaded symbols. Hunched over a beer inside the Battle Station, his Tribeca loft, he asked if I was with the Defense Department and grumbled, 'Too much information in the room is not good policy.'"
Rammellzee wanted to transform and arm language, believing that would liberate humanity from the discipline forced on it by the oppressive nature of the alphabet:
"He was obsessed with a story of Gothic monks whose lettering grew so ornate that the bishops found it unreadable and banned the technique. The monks' work wasn't so different from the increasingly abstract styles of graffiti writing, which turned a name into something mysterious and unrecognizable. Ramm developed a philosophy, Gothic Futurism, and an artistic approach that he called Ikonoklast Panzerism: "Ikonoklast" because he was a "symbol destroyer," abolishing age-old standards of language and meaning; "Panzer" because this symbolic warfare involved arming all the letters of the alphabet, so that they might liberate themselves. He lived these ideas through his art and his music, and by being part of the hip-hop scene during its infancy."
Speaking of which, Rammellzee also was partly responsible for creating "Beat Bop," a hugely influential 10-minute long duet with K-Rob that JamsBio Magazine called the "Ulysses of rap music." It was originally supposed to be a rap battle between Rammellzee and Jean-Michel Basquiat (with whom he seemed to have a sometimes tense, sometimes friendly rivalry), and Rammellzee brought along his friend, the rapper K-Rob. Basquiat wanted to use his own verses, but:
"…me and K-Rob read them and started laughing and we crushed up his paper with the words he had written down and we threw it back at him face first. Then we said we're gonna go in these two booths, and [I said] 'I'm gonna play pimp on the corner' and K-Rob said 'I'll play school boy coming home from school' and then it went on."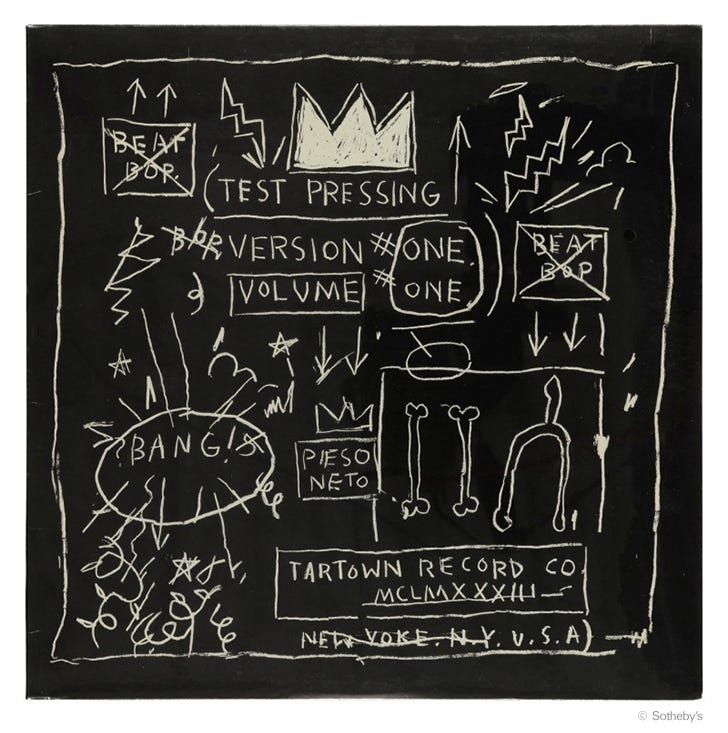 The piece they came up with is a rambling, 10-minute-long reverb-laden epic, with zero structure and meandering old school stream-of-consciousness vocals delivered over a driving bassline and various instruments that fade in and out, almost at random. Basquiat wound up designing the album cover (and spelling Rammellzee's name wrong, to his eternal annoyance), and 500 copies were released in 1983. The album is now one of the rarest and most collectable records in hip hop, with original copies usually earning four figures at auction — and of course Sotheby's has one; estimate $2,500 - $3,500. Click through to the lot notes for a great oral history of the album's haphazard path to release.
Rammellzee went on to an enviable career of international solo and group shows, and also reunited with K-Rob in 2004 for Beat Bop Part 2. His many years of breathing in toxic fumes unfortunately caught up with him in 2010, and he passed away at the age of 49. His influence lives on, however, and in the words of Bootsy Collins: "Rammellzee is on purpose. He is a speck of magic galaxy dust from another time."
---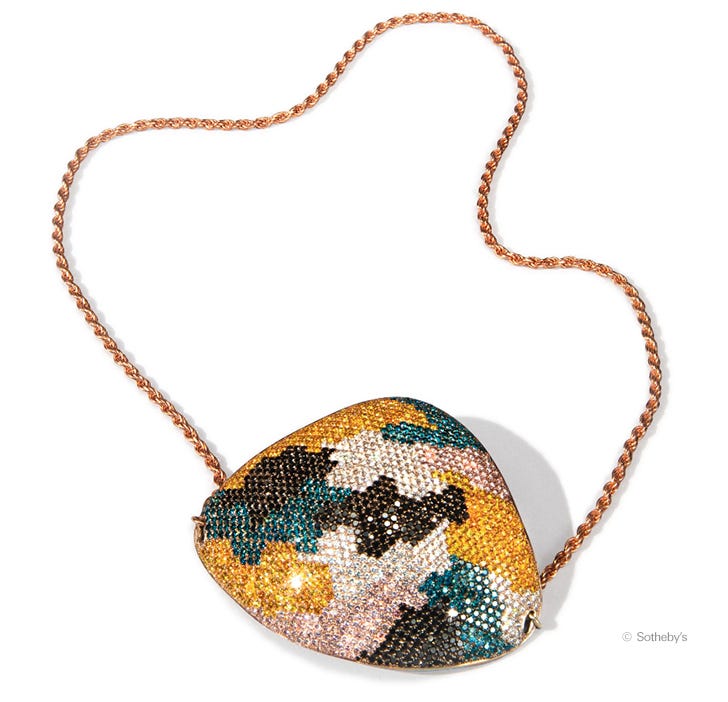 Made by the famous "King of Bling" Jacob the Jeweler, this gold eye patch features round near-colorless and colored diamonds in shades of pink, yellow, teal and black set in a camouflage pattern. It was designed by Mandy Aragones for her husband, Ricky Walters — a.k.a. Slick Rick, the most sampled man in hip-hop. Rick was accidentally blinded in one eye by glass from a broken window when he was an infant, and his blinged-out eye patches are a key facet of his style, which also embraces jaunty hats, layers of heavy gold chains and fantastic color coordination. That look, combined with his London-tinged accent, clear enunciation and storytelling style of rap set Rick apart, and in 1986 he was the third artist signed to Def Jam Records. His work has been massively influential on later artists and his singles are heavily sampled — particularly La-Di-Da-Di, his surprise smash B-side with Doug E. Fresh, which has been sampled or referenced something like 800 times by everyone from Mos Def to Miley Cyrus. DJ and record producer Mark Ronson refers to it as "literally like Chapter 1 of the hip-hop DJ Bible."
Last year, the NME asked Rick the seminal question: Gold or platinum?
"It depends on what you're wearing. If I had to choose, I would go with platinum and ice, not just platinum. Ice on white looks better than ice on yellow, which is gold. So they both have to have ice on them in modern day. But the thing now is rose gold looks good with ice too. It gives it a modern flavour. Rose gold flooded with ice is modern, so it could stand up to platinum with ice. Now you have a variety, it's always good to have variety."
La-di-da-di, we like to party.
---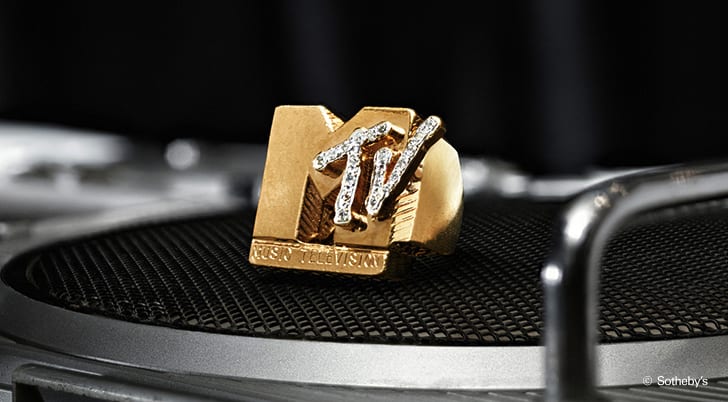 Permanently enshrined in pop culture history by a name-check in Blondie's "Rapture," Fab 5 Freddy — a.k.a. Fred Brathwaite — started out in the late '70s as a member of the Brooklyn-based graffiti group the Fabulous 5. As a kid, he would skip school and go look at the art and jewelry in the Met and think about how HE wanted to do that, and that desire to be a fine artist eventually came to fruition as he started branching out into gallery shows and film.
Like Rammellzee and Basquiat, Freddy was a member of the Street Art movement, and he deliberately set out to merge the graffiti and hip hop worlds of uptown New York City with the punk and art worlds happening downtown:
"I was, like, this person who understood the fine-art thing," Freddy says. "I was hip enough to hang downtown at places like Danceteria with all these art people, gallery owners, all the groovy people, but I had the pure hip-hop roots as well. So this was my synthesis. I was credited with bringing rap downtown. I went onstage and rapped at the Mudd Club, which was a new-wave hangout. I knew I wasn't much of a rapper, but I wanted to fuse the two worlds, and I figured the audience downtown wouldn't know the difference if I was or wasn't much of a rapper. I knew whatever I did down there would look interesting. I wanted people to see this whole hip-hop street-culture thing bubbling up under their noses."
In 1988, Ted Demme — Jonathan's nephew — was working at MTV, which had up to that point generally ignored Black artists. (You've seen the 1983 David Bowie interview in which he politely flays MTV VJ Mark Goodman alive over their lack of representation, right?). Nevertheless, Demme managed to get a special about Run-DMC approved by the network, and it was a smash. MTV quickly greenlighted a weekly show, and one of Freddy's former downtown art pals recommended him to Demme as a host. It was a match made in heaven, and Yo! MTV Raps was born.
In honor of the show, Freddy designed the ring above and had it made to order by Tito (a.k.a. "Manny") the Jeweler. Tito was actually the first hip-hop jeweler. Jay Z, Salt-N-Pepa, LL Cool J and many other stars of the hip-hop scene patronized him, but eventually they took their business to Jacob the Jeweler, because, according to rapper Roxanne Shanté,
…"he did not question our money," Shanté said. "A lot of times, when you're someone bringing over $10,000 in cash, you want your money to be respected and accepted. Jacob didn't put you through no hassles—he took it."
(Jacob was later arrested in 2006 for money laundering, but the charges were dropped thanks to a plea deal, and he did go to jail for lying to investigators about a drug ring. But that's a story for another day.)
ANYWAY, Freddy's ring is a depiction of the MTV logo in gold, with 20 round diamonds accenting the "TV."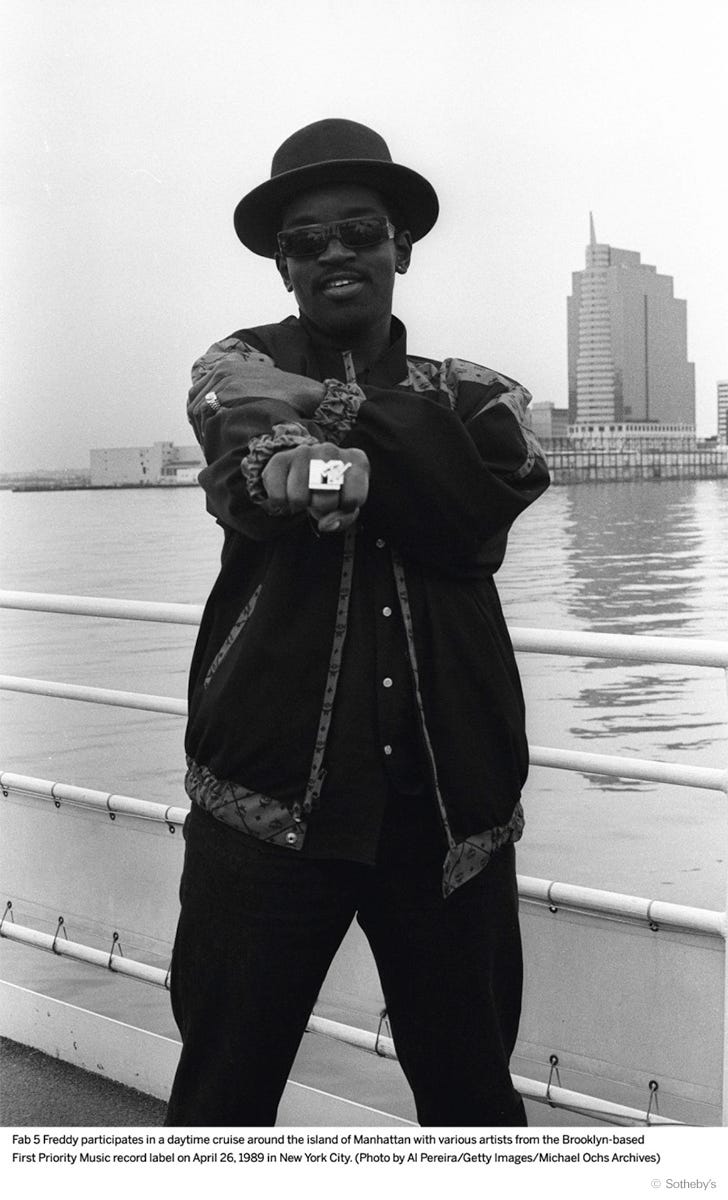 Freddy went on to become associate producer of the 1991 film New Jack City (in which he also appeared as the Master of Ceremonies), and he has been directing videos and appearing in documentaries, TV dramas and films ever since. His ring is estimated at $20,000 - $30,000.
---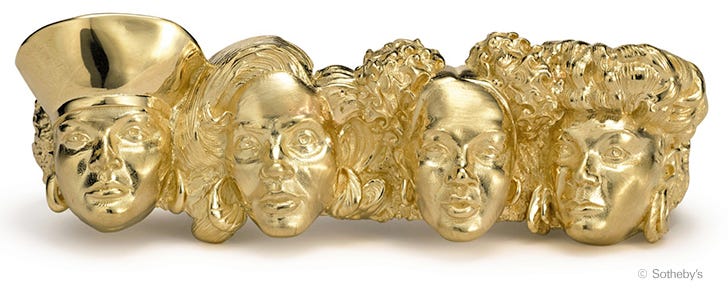 This four-finger ring was made by Brooklyn-based jewelry designer Johnny Nelson specifically for this sale. Entitled "Ladies First — Mt. Rushmore Re-Imagined," it depicts some of the greatest female hip-hop MCs — Queen Latifah, MC Lyte, Lady of Rage, and Roxanne Shanté — in solid 14k gold, and is signed "JN" and "Sotheby's."  
Nelson says his jewelry is "created to speak to our political and socioeconomic climate by honoring our Black ancestors that fought the fight we are still fighting and inspiring our leaders of today," and his designs feature other Rushmore-inspired groupings of iconic Black figures, including Harriet Tubman, Shirley Chisholm, Sojourner Truth, and Ida B. Wells, and Martin Luther King Jr., Malcolm X, Marcus Garvey, and Frederick Douglass.
---
That's it for today, but I highly recommend you scroll though the entire auction when you get a chance. I've focused on the blingier stuff, but there's much more of interest, and the lot notes often contain a wealth of inside info — speaking of which, DID YOU KNOW that Salt-N-Pepa's iconic polychrome leather Push It jackets were designed by none other than Christopher "Play" Martin of Kid 'N Play???? I did NOT, and yes I AM going to link to the House Party dance-off scene because it brings me enormous joy. And the jackets are in the sale; estimate $12,000 - $18,000.
Other items of interest include original paint pen and acetate studies for De La Soul's brilliant 1989 debut album 3 Feet High and Rising, Questlove's '60s-era 5-piece Premier UK drum kit, a 1987-88 archive of 22 love letters from a 16-year-old Tupac Shakur to his high-school sweetheart, and an unreleased prototype pair of Drake's Air Jordan IV Retro sneakers. Experiences are also on offer, including a virtual wine tasting with Big Daddy Kane and a private atelier experience and couture design session with Dapper Dan, the legendary Harlem tailor.
---
I hope you're all bearing up as well as possible as the world melts down around us, and I thank you for indulging my obsession with the explosively creative New York City of the late '70s/early '80s. As always, feel free to leave a comment online, reply to this email, or find me on Twitter at @rococopacetic. Take care of yourselves and stay safe xxx
---
Thanks for reading, and if you haven't already subscribed, sign up here: