It's the Spooky Edition, yo
Featuring a mysterious pomander, some demonic cocktail picks and a skull in a hat
Hello, my neglected pals! The day job has kept me from you, but now I'm back with some spoooOOOooky treasures to honor the month.
First up is a 17th century English apple-shaped silver pomander that opens to reveal a wreath-crowned skull nestled in a gilded compartment. Pomanders were little containers that held herbs and spices, and they were usually worn around the waist to help ward off some of the more, um, pungent scents of the 16th and 17th centuries. This particular pomander also serves as a memento mori — a reminder of death — and refers to the Biblical tale of Adam and Eve with an emphatic bite mark on the apple and an inscription that reads:
A.D. 1628

From Man

Came Woman

From Woman

Came Sin

From Sin

Came Death
Which is some bullshit, but moving on: The skull also opens to reveal a miniature painting of Christ leading the souls out of Limbo, with the inscription "Post mortem, vita eternitas," or "after death, life eternal."
The piece has a interesting history. It was sold at Christie's in 1855, and five years later a drawing of it was included in a catalog of the collection of Lord Londesborough. The drawing showed the bite and the A.D. 1628 inscription, but it ALSO included an engraving of a royal crown and the initials 'JR' (James Rex) above the date — a reference that, according to Milo Dickinson, Head of Sculpture at Christie's in London, "could refer to either James I or James II. The problem is that James I died in 1625 and James II lived at the end of the 17th century, so neither date matches." Plus, that additional engraving wasn't mentioned in the Christie's 1855 catalog, and that's probably not a detail they'd ignore, so does that mean someone added the marks after the sale to fraudulently boost the value of the piece? Hmm.
The pomander eventually moved on to other hands, and those mysterious marks no longer exist on the apple. The lot essay describes how that happened:
That this crown and the initials "JR" are no longer to be seen on the apple is explained by a story recounted by Commander How in the mid-20th century, as told by his wife, Mrs How, who was a pre-eminent silver dealer based in London. Mrs How noted that when she owned the pomander she 'submitted it to the head of the Metalwork Department of one of our greatest museums, and he assured me that though the Skull and Apple container were genuine, and the inscription original, the lightly engraved crown and initials had obviously been put on by somebody at a much later date to give it a spurious association with James I. As the engraving was light he advised me to have it removed. This I did. A few months later he rang me up on the telephone to say he had made an interesting discovery; he had found an early reference to this particular object and a drawing of it showing the crown and 'J.R.,' which, in the circumstances, was conclusive evidence that they were of early date.
Oh dear; I wonder what poor Mrs. How said when she hung up that phone. The question remains, though: Were the marks really legit? Did Christie's just neglect to mention them? I doubt it, but you gotta love a mystery.
---
This silver medal isn't spooky, but this made me laugh:
The Ancient Noble Order of the Gormogons was a 18th century society formed by expelled Freemason Philip Wharton which left no records or accomplishments to indicate its true goal and purpose. From the group's few published articles it is thought that the society's primary objective was to hold up Freemasonry to ridicule.
---
Circa 1580, this German ring features a layered agate cameo carved with a ghostly likeness of Medusa. Cartouches, masks and foliage extend around the gold band in a riot of enameled detail.
---
This is Egyptian, but something about it makes me want to go all Wicker Man pagan and start lighting up some pompous establishment types. Circa 1648–1540 B.C., it's a Fifteenth Dynasty gold headband/diadem set with a central head of a stag, and alternating gazelle heads and flowers around the band. It comes from the Hyksos culture of the eastern Nile Delta region, and shows the influence of Near Eastern and Egyptian styles that is typical of the society.
---
Six adorable wee devils adorn this ca. 1929 set of sterling silver cocktail picks. They're hallmarked for Barker Brothers Silver Ltd. of Birmingham, England, and retain their original box.
---
BEHOLD THE ENNNNNNDE!
Another English memento mori piece, this 17th century ring features a black and white enameled skull placed within a quatrefoil bezel and surrounded by the words "Behold the Ende." Tiny carved skulls and black enameled flowers extend down the band.
---
Circa 1880s, a plump little Victorian bat pin, with a natural pearl belly, ruby eyes, and wings of rose cut diamonds set in sterling silver with 18k yellow gold.
---
AGAIN with the memento mori; I know, I know. This ivory rosary dates to ca. 1500–1525 Germany, and features elaborately carved images of life and death. The third and sixth beads combine to spell out the words "Remember death/This is what you will be," and the two terminal beads are an emphatic reminder not to get too comfortable.
Eeeep.
---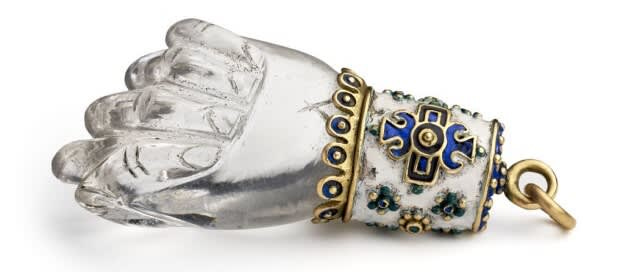 A figa or mano fico — a clenched hand with the thumb sticking out between the index and middle fingers — translates to "fig hand," and is a slightly obscene gesture that's meant to mimic female genitalia. It was used for centuries in Italy and various other cultures as an insult or a gesture to ward off the evil eye, and representations of it were also used as good luck charms. This 17th century Iberian version is particularly beautiful, with a figa of carved rock crystal set into an elaborate yellow gold and enamel cuff. The rock crystal is an additional protective element — it was believed to have the power to neutralize any liquid that may contain poison.
---
I needed a skull palate cleanser after that super miserable little ivory dude up above. Circa mid-19th century France, this stick pin sets a jaunty gold hat with blue enameling atop a slightly more cheerful silver skull.
---
Circa 1910, a lovely 14k German or Austrian owl ring, with diamond eyes and an oak leaf motif adorning the band.
---
A little while back I showed you a bezoar case, and now here's an actual bezoar. Again, bezoars are naturally occurring stones found in the digestive systems of certain animals, and they were prized in the 16th and 17th centuries as a vehicle for counteracting poison (people sure had their knickers in a twist about poison back then, huh) and preventing illness. This one dates to the 19th century and has an old label stating "Bezoar cross section/large cow/died 1824." It sits on a little pine display stand inside a 19th century glass dome.
Ok, that's it for now, my friends. Go forth, light some bonfires, and welcome home the souls of the dead. xxx
---
Thanks for reading, and if you haven't already subscribed, sign up here: