Pocket watches, a perfume gun and a ridiculous dog face

Circa 1860, a Victorian 15k "Dearest" acrostic ring set with a diamond central stone and surrounded by (clockwise from top) emerald, amethyst, ruby, emerald, sapphire and topaz.
Hi there! It's been a while since I wrote one of these things all formal-like, so please excuse my rust. Welcome to Dearest! For the past year or so I've been thinking about resurrecting the antique & estate jewelry column I used to write for The Hairpin....but where? No more Hairpin, no more Awl, no more Toast. So many beloved internet havens gone, and nothing left that feels like it could be a comfortable fit. But a newsletter? That just might work.
So let's give this a try. I'm thinking this will feel a lot like the old column - a random mix of interesting old sparkly things that have caught my eye, presented with a bit of background or maybe just some inarticulate screaming. I thought about featuring a single piece daily, but I don't know if that would really be sustainable and also possibly annoying, so I'll go with a few pieces weekly for now. Let me know if you have a preference. 
Also, fair warning: I may occasionally include some vintage automobiles, because sometimes fancy car auctions are seeded with amazingly random stuff that's worth pointing out, like little Jetsons-y bubble cars and Fiats with wicker seats and 1930s Yosemite tour buses. 
Ok, let's get this show on the road!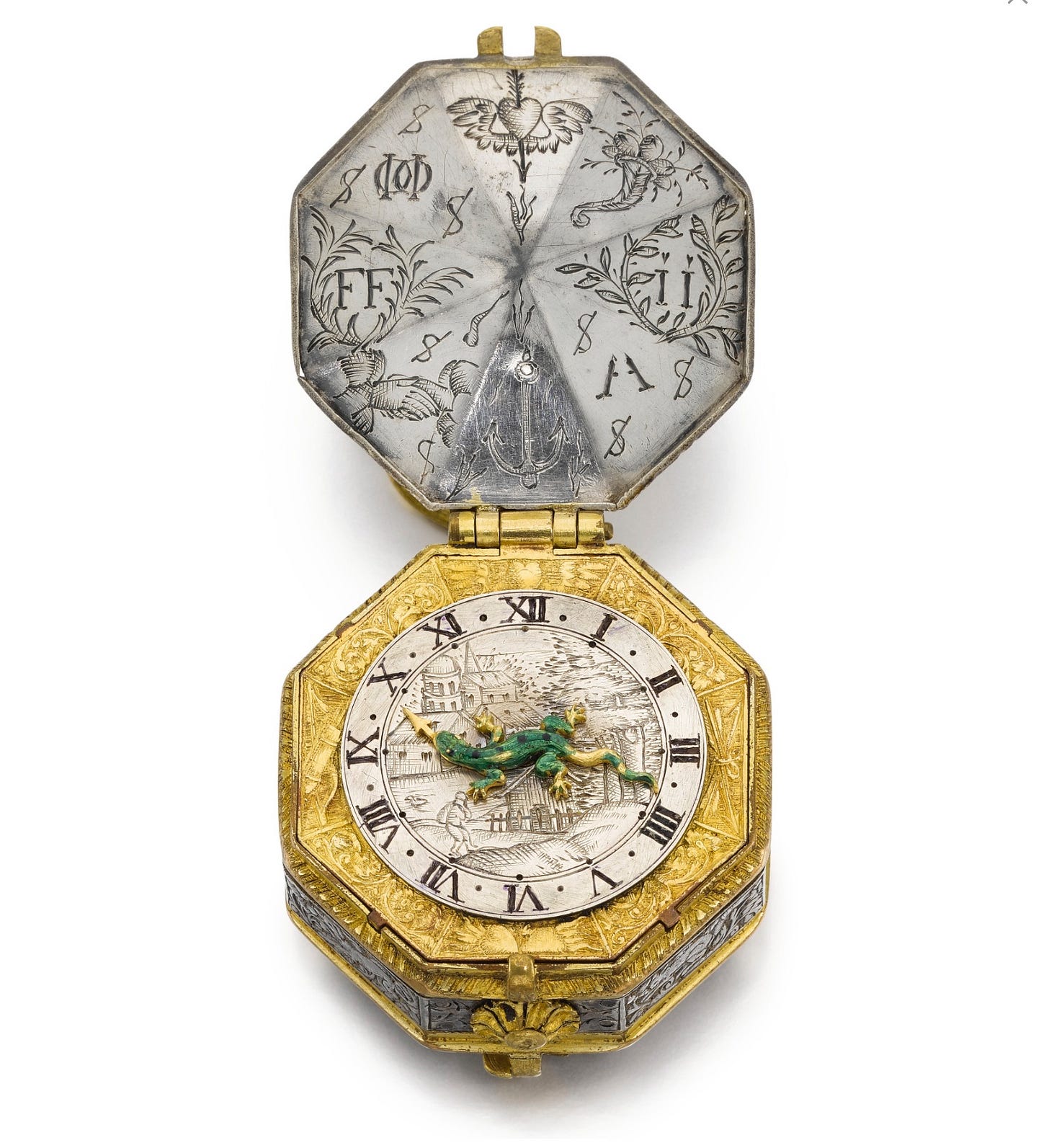 First up is a pocket watch - I know; snooze - but seriously it's so pretty. Circa 1620, it's silver and gilt metal, unsigned, and probably French. It's covered in carved love tokens including pierced hearts and quivers of arrows, and a tiny enameled lizard functions as a single watch hand (there are half-hour marks placed between the Roman numerals). Part of the case is inscribed with a date of 1597, but because the movement of the watch dates it to 1620, Sotheby's speculates that this may have been an anniversary gift. It's not the most expensive watch in this sale, but it's beautiful and opulent yet still feels very personal and even a bit homespun. 
That said, even if you're not a watch person, please check out the rest of this auction. There are some truly gorgeous items in this sale, including this circa 1650 verge watch signed by Jehan Cremsdorff, Paris.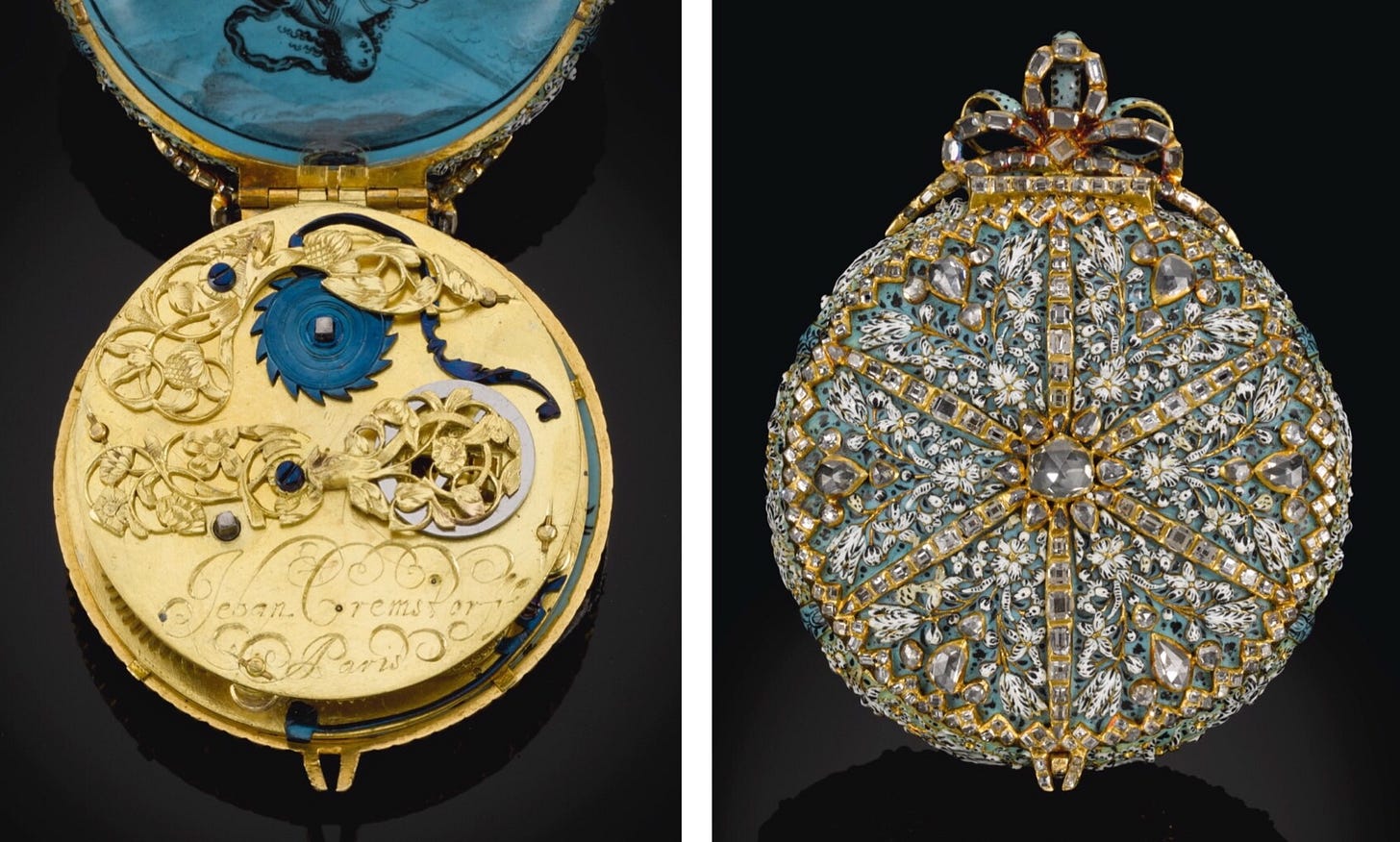 It's estimated at $910,000 - $1,300,000. The movement alone is beautiful, but that CASE!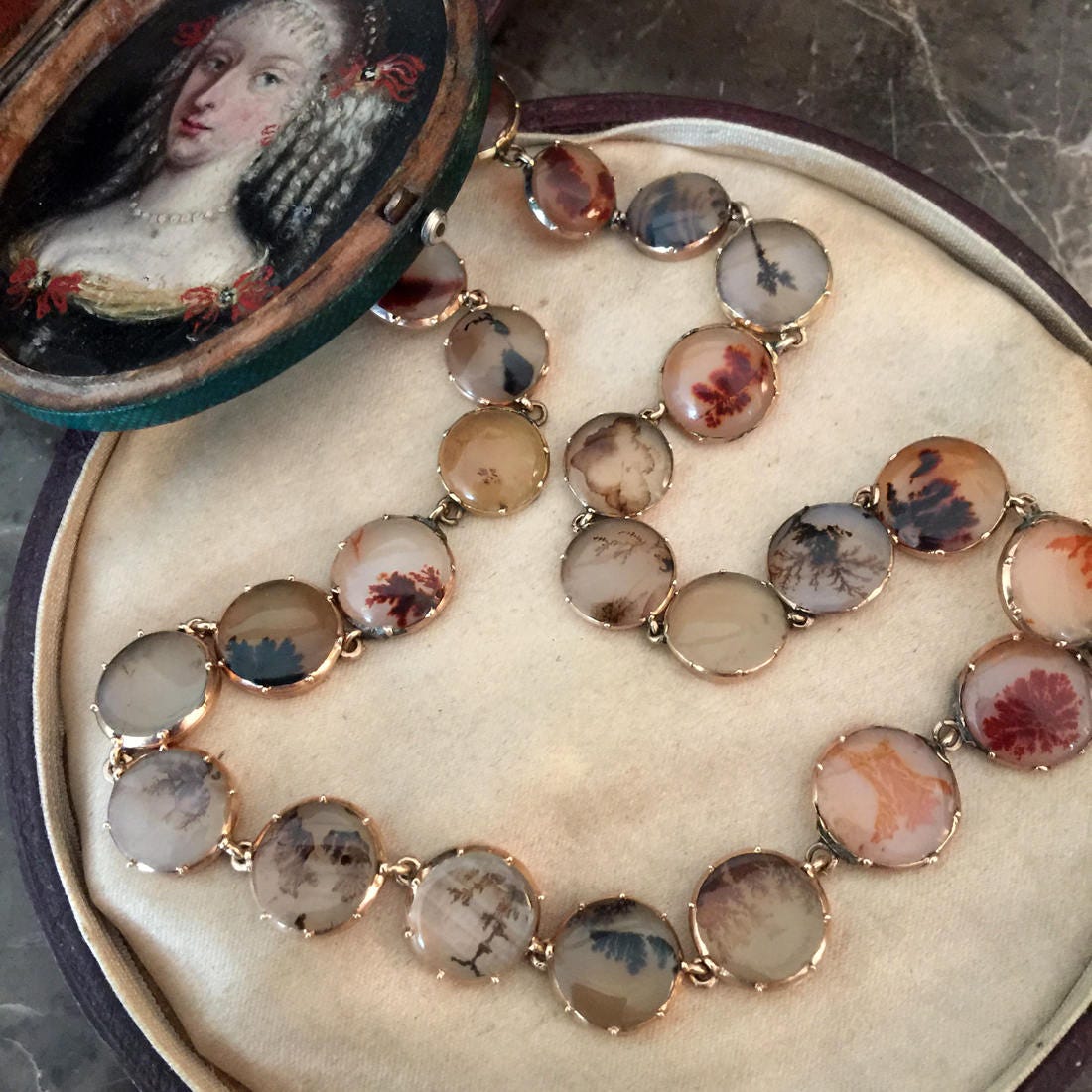 I want this necklace so much it's like I have an actual pain in my chest. I wept about it on Twitter ages ago, but it's still there, unsold, mocking my poverty. It's a Georgian rivière necklace in gold with 29 flat-cut dendritic agates. (Dendritic agate is a form of chalcedony that has tiny fern-like inclusions of manganese and iron oxide.) I need it like air.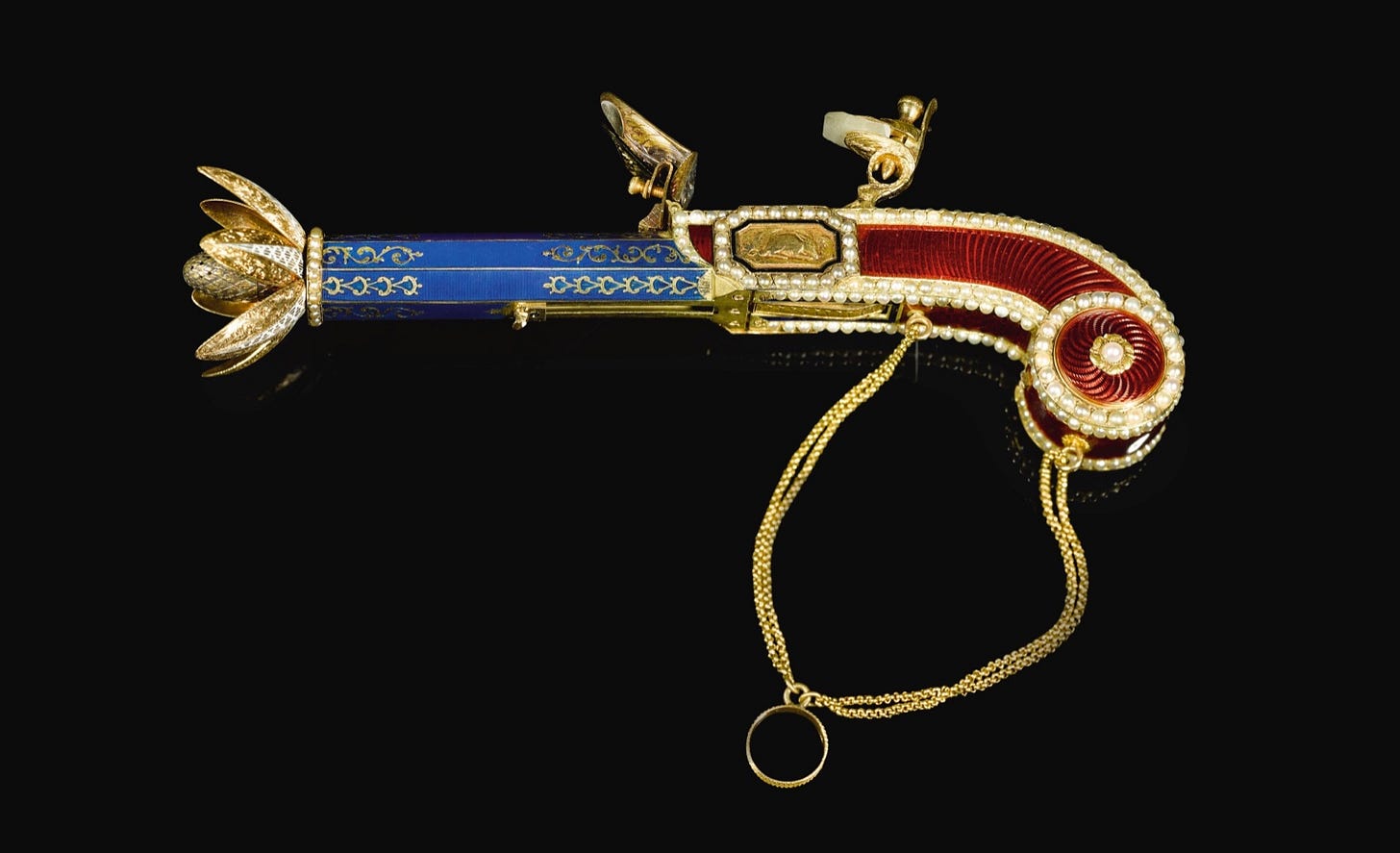 A tiny bejeweled perfume gun! Seriously. Circa 1804-1808, it's a miniature flintlock pistol automaton made of gold and enamel with split pearls, and lovely little cased panels on each side depicting a hare and a hound. It was made by Moulinié, Bautte & Ce. of Geneva, and the link gives you a little more background on Jean-François Bautte, who was referred to as the "generous grump" by his employees. 
The automaton mechanism sprays out perfume from a central gold rose when the hammer and trigger are struck. There's also a watch concealed in the barrel of the gun, because of course there is.
Only 15 of these perfume pistols were recorded as being made, and this one would have been part of a set, but Sotheby's thinks the pair sold at one of their actions in Geneva in 1981.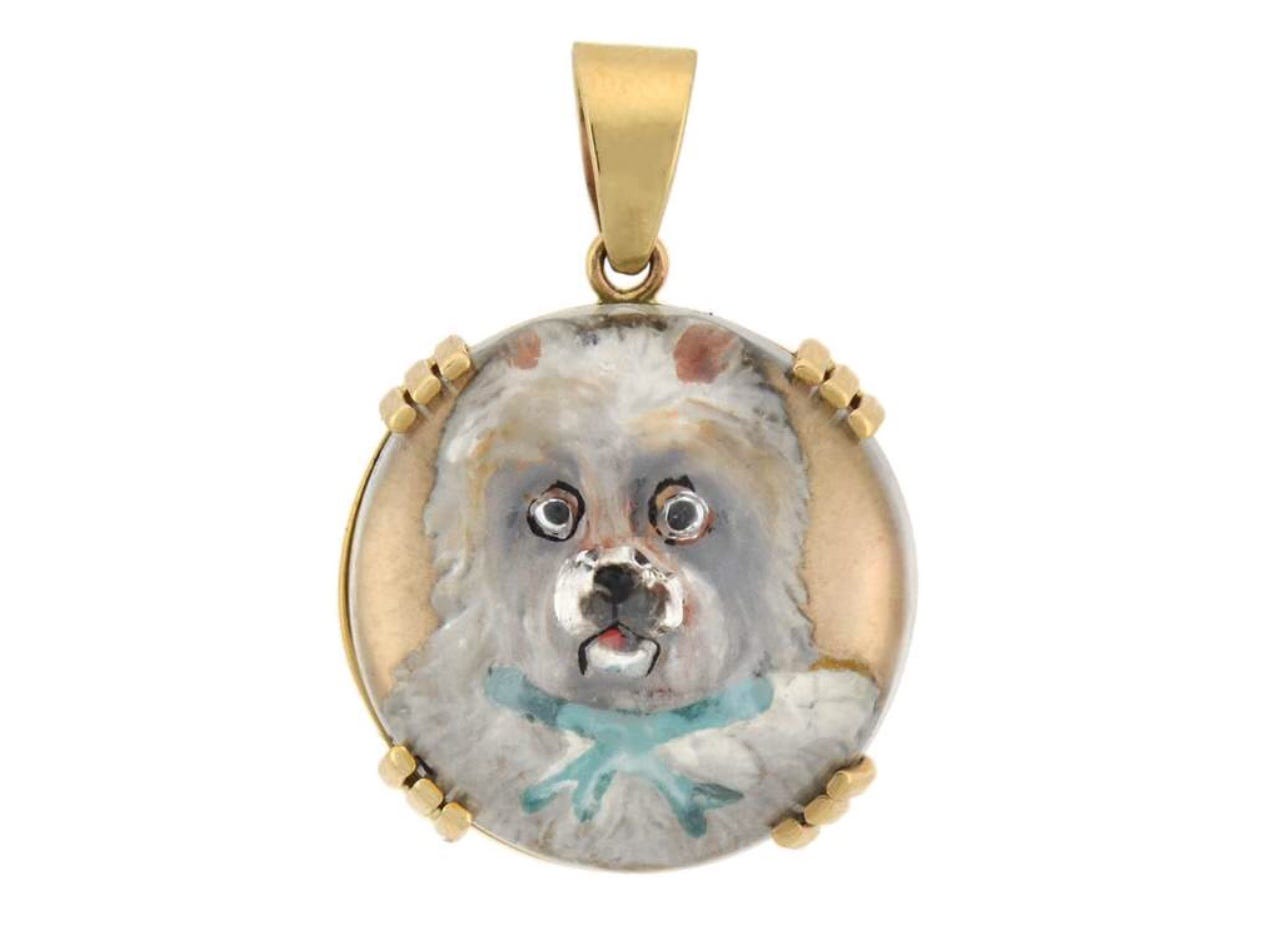 Ridiculous dog jewelry is one of my favorite little subsections of antique jewelry, and happily there's a fair amount of it floating around. The best - i.e. most ridiculous - are usually Victorian reverse crystals, which are created by carving an image into the flat back of a cabochon-cut crystal. The image is then painted,  often in super intricate detail . Viewed from the front, the resulting piece looks incredibly three-dimensional, because the convex crystal exaggerates the depth of the image carved into the back. (Note: You'll sometimes see reverse crystals referred to as "Essex crystals," which stems from a misattribution to an artist who didn't actually create reverse crystals, but the name continues to stick around.)
This particular 14k Victorian reverse crystal pendant features a Westie who apparently was just caught pooping in a shoe. 
Ok, that's it for now. Have a good week, everybody!