Bacchus, a meteorite, and that little dude from Trilogy of Terror
Also featuring Charles Dickens' fruit knife and an extremely pretty Art Deco ring.
Hello all, and blessings on you these Winter Solstice holidays. Hail Sol Invictus! Tomorrow the sun is reborn!
Bacchus says hi and hopes you'll all enjoy yourselves irresponsibly. The Roman god of wine and revelry is featured prominently above, in this incredible circa 1880 French bangle. The head is carved out of bloodstone and signed by the great 19th century sculptor, medalist and gem engraver Henri Auguste Burdy. Delicately etched grapes and leaves adorn Bacchus' forehead, and rose-cut diamond scrolls frame his face and echo the scroll pattern of the pierced gold bracelet.
---
This cube of meteorite sold last week in the Sotheby's "History of Science and Technology, Including Fossils, Minerals and Meteorites" auction in New York. It's a Seymchan meteorite, which means it was discovered (in 1967) near the settlement of Seymchan in Russia. It's been cut into a 2-inch-square cube, which shows off the color variations and patterns of the meteorite. I wish I could have afforded to buy it, so I could nonchalantly tell people that it "nicely displays the distinctive Seymchan juxtaposition of the rounded Olivine crystals against the straight Widmanstätten patterns of the iron-nickel."
---
Ok so I hope you don't mind, but Dearest has officially become a newsletter about animals in chariots driving other animals. I recently showed you some micromosaics featuring a few variations on this theme, and now here is a carved agate brooch that depicts an owl in a chariot pulled by two cockerels. The agate is Italian and dates to the late 17th century, while the diamond-set gold brooch is from the 19th century.
The dealer, Wartski, believes this particular pairing is:
"…an allegory of the triumph of virtuous love over carnal love. The owl symbolises wisdom, whilst cockerels are considered to represent virility and sexual potency. Whilst the cockerels are pulling the chariot forward, it is the wise owl who determines its direction. It is also possible that the gem could be an allegory of light and dark, day and night and life and death. Cockerels have long been associated with the break of day when they crow and, therefore by extension, represent life. The owl by contrast is a symbol of the night time and death (as is so eloquently illustrated in the 17th Century painting Vanité à la chouette in The Musée des Beaux-Arts de Dijon, which depicts an owl sitting on a human skull next to an extinguished candle)."
Huh.
---
The color combo in this circa 1920s Art Deco ring is an absolute knockout. Set in platinum, the bright grassy greens of the calibre-cut demantoid garnets complement and accentuate the gorgeous play of color within the central 3.77 carat white opal. An additional 40 Old European-cut diamonds fill out the background. Just really stinking pretty.
---
Charles Dickens' fruit knife sold for $5,000 last week in the Sotheby's "Fine Books and Manuscripts, Including the Olympic Manifesto" auction in New York. Engraved "From K.D. to C.D. 1849," it may have been a gift from his wife, Catherine Thomson "Kate" Dickens, and features a mother-of-pearl handle and Sheffield hallmarks for 1819.
---
From Western Europe, circa 1670, an exquisite high carat gold late Renaissance point cut diamond ring, with an enameled quatrefoil bezel and ornate shoulders. The underside is also elaborately enameled.
Lovely, but unfortunately it's "price on request," which we all know means "get back to your open sewer, peasant."
---
Part Two of the Bonham's TCM Presents ... 1939: Hollywood's Greatest Year auction also ended last week, and I'm only including this The Creature Walks Among Us (1956) poster because it makes me laugh every time I see it in my favorites. Get that poor Creature some glasses!
---
The perfect seal for the Vaguebooker who somehow manages to still be in your life. Circa the 1840s, this Victorian spinner fob sets a four-sided Neapolitan-ice-cream-colored agate seal within a high carat gold frame with a chased orange blossom detail. The agate spins to reveal a different carved intaglio message on each side, and the somewhat unusual message set includes: "Ricordati di me" (Remember me), "Alla giornata" (To the day, or possibly in the moment), "Le froid me chasse" (The cold drives/chases me) and "Suis je danc oublié" (Am I so forgotten?).
Really??? Did you really have to enshrine your drama in a SEAL?
---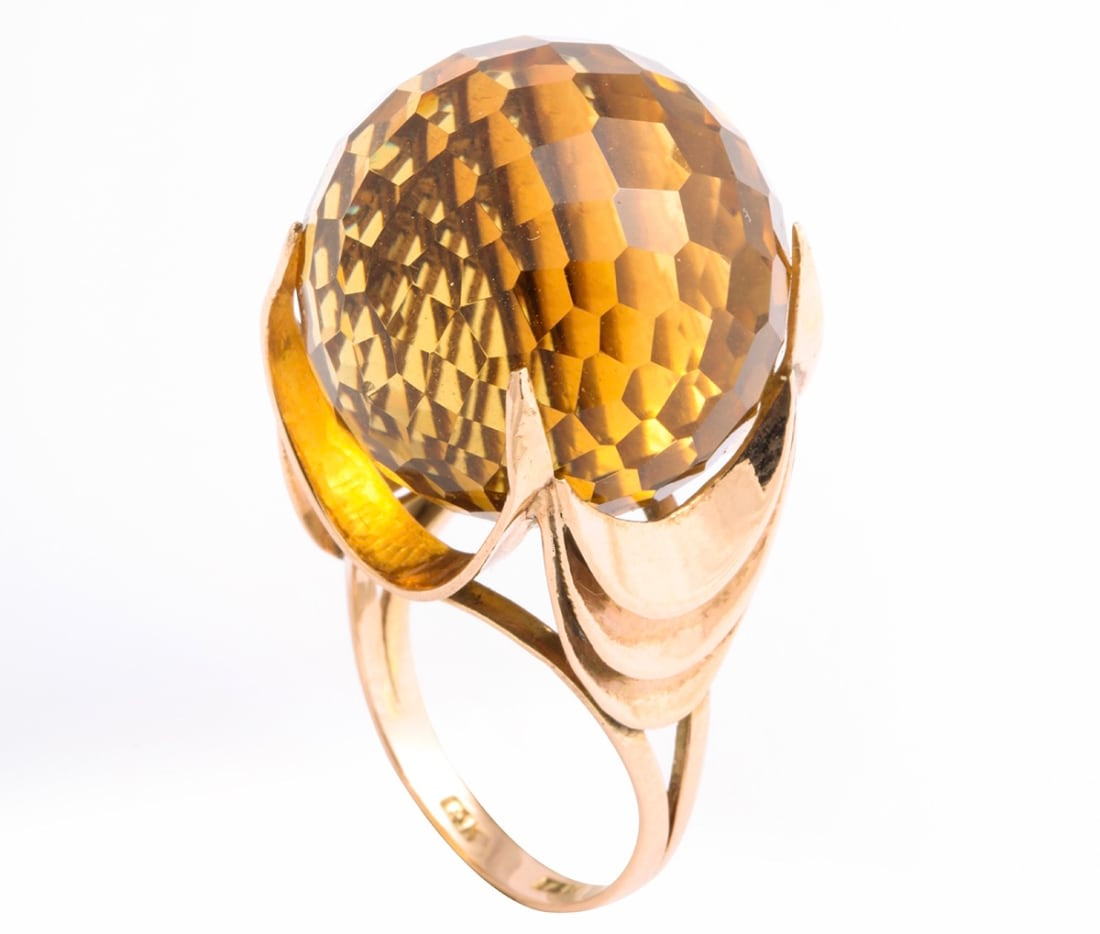 This circa 1960s American ring marries sorcery with the Space Age, and features a faceted spherical citrine cradled in a scalloped gold setting.
---
Many of you of a certain age will probably (and vividly) remember Trilogy of Terror, the 1975 three-part Karen Black TV movie that saved the best for last. The third part of the trilogy (here's a trailer) is an adaptation of a short story by Richard Matheson, and introduces us to Amelia, who has recently bought a "Zuni hunting fetish" doll for her anthropology professor boyfriend. Needless to say, shit happens, and suddenly poor Amelia's tearing around her apartment trying not to be sliced to ribbons by a tiny warrior who keeps screaming "YAYAYAYAYAYAYAYA!" and hiding in lampshades. It's the BEST.
Anyway, the original Zuni hunter puppet from the film was offered last week in the Profiles in History Hollywood: A Collector's Ransom auction. It was estimated at $12-15k, and sold for $170k. I hope they put his belly chain back on.
---
That's it for today, friends! I'm off work until Jan 6 and have an appointment with a very large stack of English police procedurals, so I'll see you back here in a few weeks, once the auctions have started up again and stock has been refreshed. Enjoy your holidays, take care of yourselves and escape when you need to — and above all, thanks for following along on this odd little journey of mine. xxx
---
Thanks for reading, and if you haven't already subscribed, sign up here: